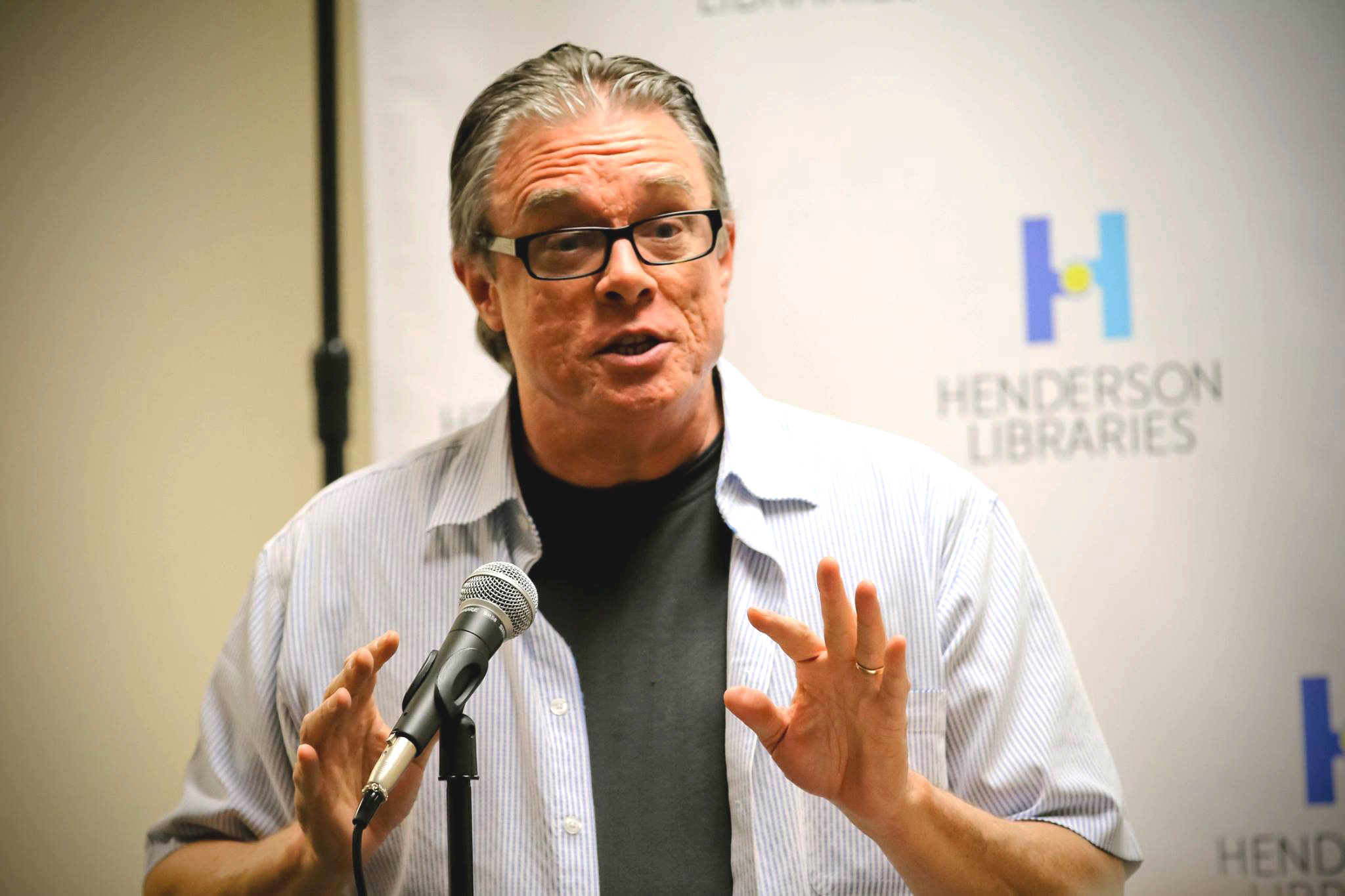 Bruce Isaacson
Bruce Isaacson, Jan Steckel, Deborah Fruchey on Rudy Jon Tanner
19 SEPTEMBER 2021 — sunday
Poetry Flash presents a virtual Zeitgeist Press poetry reading by Bruce Isaacson, Leningrad to Las Vegas, and Jan Steckel, Like Flesh Covers Bone; poet and editor Deborah Fruchey presents the late Rudy Jon Tanner's If Thirst is Proof of Water, online via Zoom, free, 3:00 pm PDT (Register to attend: please click here; you will receive an email with a link to join the reading)


Please join us for a Poetry Flash virtual reading on Sunday, September 19 at 3:00 pm PDT! We are excited to bring you this Zeitgeist Press event via Zoom. To register for this reading, please click on the link in the calendar listing above. After registering, you will receive a confirmation email containing information about joining the meeting. Thank you for continuing to support Poetry Flash and our reading series during these unprecedented times.

The featured books are available at www.zeitgeist-press.com.

MORE ABOUT THE READERS
Deborah L. Fruchey's recent Zeitgest poetry collection is Three Kinds of Dark. Connie Post says, "A great new book from the well-known author of books, romances, and poems with emotional punch. The poems in this collection have verve, have a kick, and will leave your senses wanting more.…" Deborah Fruchey is also the author of Armadillo (poetry), two comedy romance novels, one self-help manual for the mentally ill, and Priestess of Secrets, a recent flash fiction collection. Her debut novel was chosen as a "Best Book" by the American Booksellers Association. A part of the Above Paradise and Café Babar scenes, her work appeared in the Babarian anthology, Poets from Hell. She edited If Thirst is Proof of Water, by the late Rudy Jon Tanner, and Our Lady of Telegraph Avenue, a tribute to the late poet Julia Vinograd.

Rudy Jon Tanner passed away in August 2021. If Thirst is Proof of Water, edited by Deborah Fruchey, is his first full-length collection, and was published in 2021 by Zeitgeist Press. Audio of him reading his own poetry will be presented at this event. Previously, he published two chapbooks, Picasso's Monkey, and The Accidental Beacons of Things Worn Away. Tanner studied piano and twentieth century composing at Oklahoma City University, where he also began writing poetry, while he continued to compose. He moved to California in 1980. He attended the Old Spaghetti Factory readings in North Beach, where he became friends with Julia Vinograd, along with her many friends who just happened to have a very natural talent for stunning poetry.

Jan Steckel's most recent book, Like Flesh Covers Bone, published by Zeitgeist Press, won the 2019 Rainbow Awards for LGBT Poetry and Best Bisexual Book. James Cagney says, "These poems have come for blood. Jan Steckel writes often humorous, always electrified poetry of great depth and courage. Take this journey!" Her poetry collection, The Horizontal Poet, won a 2012 Lambda Literary Award for Bisexual Nonfiction. Her fiction chapbook, Mixing Tracks, and poetry chapbook The Underwater Hospital have also won awards. She lives in Oakland, California.

Bruce Isaacson's new book of poems is Leningrad to Las Vegas; Jack Hirschman says, "…a brilliantly composed novel in poems…very beautifully evoked…you will learn more about Russia soon after the end of the Soviet Union via Isaacson's terrific perceptions than you'll read anywhere." He is known here in the Bay Area both as a poet and the publisher of Zeitgeist Press, and is often associated with the Café Babar series, part of the SF spoken word revival of the 1980s. A graduate student with Allen Ginsberg at Brooklyn College, he was a finalist in the inaugural season of the Nuyorican Poetry Slam. The first Poet Laureate of Clark County, Nevada whose two million population includes Las Vegas and the Las Vegas Strip, he is the founder of Poetry Promise, Inc., a non-profit whose mission is the advancement of the knowledge and practice of poetry. Isaacson is the author of several previous collections, including Ghosts Among the Neon and The Last Lie.
Daily Listings
< previous month | show all FEBRUARY | next month >
9 FEBRUARY 2023 — thursday
Open mic reading, anything goes, poetry, recitals, rants, rejoicings, come to read or to listen, and be a part of this collaborative experience, with musical accompaniment by Psi Process, every second Thursday of the month, The Ugly Mug Coffee House, 4640 Soquel Drive, Soquel, free, 5:30-7:15 pm PST
The monthly Poem Jam reading series presents writers published in the new anthology Uncommon Ground: BIPOC Journeys to Creative Activism, hosted by San Francisco Poet Laureate emerita Kim Shuck, What Unseen Thing Blows Wishes Across My Surface?, San Francisco Public Library, Latino/Hispanic Meeting Room A, 100 Larkin Street, San Francisco, free, 6:00-7:15 pm PST (More information here: sfpl.org/events/2023/02/09/performance-kim-shucks-poem-jam-celebrates-uncommon-ground)
10 FEBRUARY 2023 — friday
11 FEBRUARY 2023 — saturday
12 FEBRUARY 2023 — sunday
13 FEBRUARY 2023 — monday
14 FEBRUARY 2023 — tuesday
15 FEBRUARY 2023 — wednesday
16 FEBRUARY 2023 — thursday
Green Apple Books presents poet Tawanda Mulalu, Nearness, reading from and discussing his debut full-length collection Please make me pretty, I don't want to die, joined by poets Ritchie Hofmann, Second Empire, and Amy Shimshon-Santo, Catastrophic Molting, Green Apple Books, 1231 9th Avenue, San Francisco, free, 7:00 pm PST (More information here: www.greenapplebooks.com/event/9th-ave-tawanda-mulalu-richie-hofmann-and-amy-shimshon-santo)
17 FEBRUARY 2023 — friday
18 FEBRUARY 2023 — saturday
19 FEBRUARY 2023 — sunday
20 FEBRUARY 2023 — monday
21 FEBRUARY 2023 — tuesday
Cobalt Poets presents a reading featuring poet Shonda Buchanan, Black Indian, winner of the 2020 Indie New Generation Book Award, with open mic to follow, online via Zoom, free, 7:30 pm PST (Register to attend: www.poetrysuperhighway.com/cobalt/calendar.html)
22 FEBRUARY 2023 — wednesday
23 FEBRUARY 2023 — thursday
Poet and artist Daniela Molnar celebrates her debut collection, Chorus, winner of the Omnidawn 1st/2nd Book Award, in conjunction with her solo art show of the same name, joined by poet Brenda Hillman, Extra Hidden Life, among the Days, come for an evening of art and poetry reading, Round Weather Gallery, 951 Aileen Street, Suite P, Oakland, free, 5:00 pm PST
Kim Shuck, San Francisco Poet Laureate emerita, reads from her new collection of essays, Noodle, Rant, Tangent, San Francisco Public Library, Latino/Hispanic Meeting Room A, 100 Larkin Street, San Francisco, free, 6:00-7:15 pm PST (More information here: sfpl.org/events/2023/02/23/author-kim-shuck-noodle-rant-tangent)
24 FEBRUARY 2023 — friday
25 FEBRUARY 2023 — saturday
26 FEBRUARY 2023 — sunday
Valley Contemporary SoCal Poets Reading, featuring Laurel Ann Bogen, Washing a Language, Michael C. Ford, Emergency Exits, nominated for a 1998 Pulitzer Prize, Rick Lupert, I am not Writing a Book of Poems in Hawaii, E Amato, Swimming Through Amber, Beth Ruscio, Speaking Parts, Robert Krut, Watch Me Trick Ghosts, and Ashaki Jackson, Language Lesson, Beyond Baroque Literary Arts Center, 681 Venice Blvd., Venice Beach, Los Angeles, 2:00 pm PST (RSVP to attend: www.beyondbaroque.org/calendar.html)
27 FEBRUARY 2023 — monday
28 FEBRUARY 2023 — tuesday