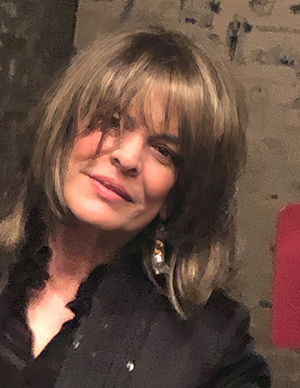 Elena Karina Byrne
Elena Karina Byrne and Gail Wronsky
9 DECEMBER 2021 — thursday
Poetry Flash presents a poetry reading by Elena Karina Byrne, If This Makes You Nervous, and Gail Wronsky, Under the Capsized Boat We Fly: New & Selected Poems, online via Zoom, free, 7:00 pm PST (Register to attend: please click here; you will receive an email with a link to join the reading)


Please join us for a Poetry Flash virtual reading on Thursday, December 9 at 7:00 pm PST! We are excited to bring you this compelling reading via Zoom. To register for this reading, please click on the link in the calendar listing above. After registering, you will receive a confirmation email containing information about joining the event. Thank you for continuing to support Poetry Flash and our reading series during these unprecedented times.

This reading is co-sponsored by Moe's Books in Berkeley; the featured books are available at bookshop.org/lists/poetry-flash-readings.

MORE ABOUT THE READERS

Elena Karina Byrne's new book is If This Makes You Nervous, a book of lyric poetry that responds to works of art. Molly Bendall says, "In this original and beguiling collection, Byrne offers us her private gallery and guides us through episodes of her life, revealing to us not only how works of art have instructed and nurtured her, but also how her life became imprinted on the art." A Pushcart Prize recipient, her previous books include No, Don't, Squander, MASQUE, and The Flammable Bird. Her poems have appeared in Poetry, Best American Poetry, The Paris Review, Kyoto Journal, Verse Daily, Poetry International, Plume, Academy of American Poets Poem-A-Day, Kenyon Review, Narrative, Volt, TriQuarterly, and BOMB. She's currently writing screenplays, short stories, and completing a collection of hybrid essays entitled "Voyeur Hour: Poetry, Art, Film, & Desire." Former Regional Director of the Poetry Society of America, Elena Karina Byrne is a freelance editor and lecturer, Programming Consultant & Stage Manager for The Los Angeles Times Festival of Books, poetry programs curator for the Craft Contemporary Museum, and literary programs director for The Ruskin Art Club.

Gail Wronsky's new book is Under the Capsized Boat We Fly: New & Selected Poems David St. John says, "Gail Wronsky is an astonishing poet whose work I've turned to for more than twenty-five years to find the most deeply compassionate, artistically complex and intellectually astute poetry being written in this country. She is a literary revisionist of the most exquisite order, reconstructing the poetic canon, challenging the historical conventions of poetry and striking urgent, lyric chords of female empowerment. …With this book she takes her rightful place among the most celebrated of American poets." Her previous poetry collections include Imperfect Pastorals, Poems for Infidels, and Dying for Beauty (finalist for the Western Arts Federation Poetry Prize). She is the translator of Argentinean poet Alicia Partnoy's book Fuegos Florales/Flowering Fires, winner of the American Poetry Prize from Settlement House Press. Her poems have appeared in Poetry, Boston Review, Antioch Review, Poetry International, and Volt. Her work has appeared in anthologies, including Poets Against War, The Black Body, In Possession of Shakespeare, The Poet's Child, and Coiled Serpent: Poets Arising from the Cultural Quakes and Shifts of Los Angeles.