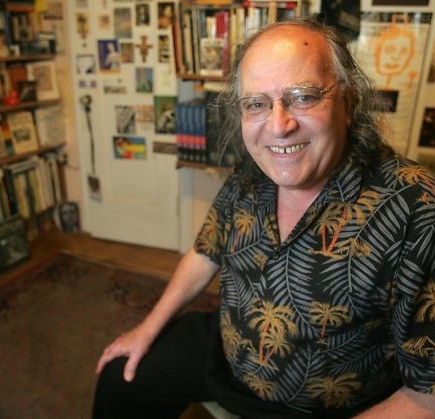 Jack Foley
Photo: Mathew Sumner
Jack Foley, Sangye Land, and Deborah Bachels Schmidt
16 DECEMBER 2021 — thursday
Poetry Flash presents a reading by Jack Foley, When Sleep Comes: Shillelagh Songs, with Sangye Land, and Deborah Bachels Schmidt, Stumbling Into Grace, online via Zoom, free, 7:00 pm PST (Register to attend: please click here; you will receive an email with a link to join the reading)


Please join us for a Poetry Flash virtual reading on Thursday, December 16 at 7:00 pm PST! We are pleased to bring you this exciting reading via Zoom. To register for this reading, please click on the link in the calendar listing above. After registering, you will receive a confirmation email containing information about joining the event. Thank you for continuing to support Poetry Flash and our reading series during these unprecedented times.

This reading is co-sponsored by Moe's Books in Berkeley; Jack Foley's books are available at bookshop.org/lists/poetry-flash-readings. For Deborah Schmidt's new book see https://orchpress.com/index.php/en/new-publications2.

MORE ABOUT THE READERS

Jack Foley will read and perform with Sangye Land. His new book of poetry is When Sleep Comes: Shillelagh Songs, poems ranging from traditional to experimental verse; and the companion volumes, The Light of Evening, a brief autobiography, "A Backward Glance O'er Travel'd Roads," a book about the growth—the autobiography—of the octogenarian poet's mind, and Grief Songs, dealing with his sorrow at his wife's death. Micah Zevin said, "Foley's When Sleep Comes: Shillelagh Songs is a collection that speaks multitudes, gives voice and voices to the human condition in all its tragic and celebratory facets, compels us to keep singing until the last song is sung." Foley has published seventeen books of poetry, five books of criticism, a book of stories, and a 1,300-page "chronoencyclopedia," Visions & Affiliations: California Poetry 1940-2005. With his late wife, Adelle he became known for his multi-voiced "choruses," a practice he has continued with his new life partner, Sangye Land. He has presented poetry on Berkeley, California radio station KPFA regularly since 1988 and is currently one of the hosts of KPFA's literary program, "Cover to Cover." He received the Berkeley Poetry Festival Lifetime Achievement Award, and June 5, 2010 was declared "Jack Foley Day" in Berkeley.

Deborah Bachels Schmidt's brand new chapbook is Stumbling Into Grace. Diane Frank said, "In these pandemic times, the world needs poems that provide vision, joy and grace. Stumbling Into Grace by Deborah Bachels Schmidt provides this kind of elixir. From the first poem through the narrative arc of her book, we receive a mythology of our times, full of ancient wisdom." A Pushcart Prize nominee, Schmidt is also the author of The Milky Breath of Stars, poems; a memoir about growing up in Taos, Land of My Enchantment; a children's book; and two genealogical adventures, The Bible, the Ship and the Pewter Plate and The Menorah in the Closet. She was awarded First Prize in the Sonnet category by the Soul-making Keats Literary Competition. Her poems have appeared in Blue Unicorn, California Quarterly, The Lyric, The Ekphrastic Review, and elsewhere.