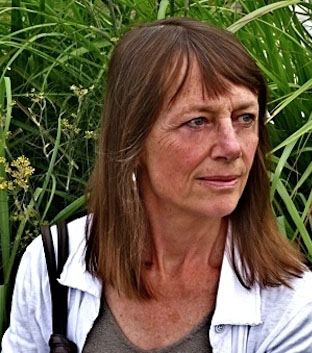 Tobey Hiller
Tobey Hiller and Maw Shein Win
6 FEBRUARY 2022 — sunday
Poetry Flash presents a virtual book launch reading by Tobey Hiller, Flight Advice: a fabulary, stories, with Maw Shein Win, Storage Unit for the Spirit House, poems, online via Zoom, free, 3:00 pm PST (Register to attend: please click here; you will receive an email with a link to join the reading)


Please join us for a Poetry Flash virtual launch reading on Sunday, February 6 at 3:00 pm PST! We are excited to bring you this event via Zoom. To register for this reading, please click on the link in the calendar listing above. After registering, you will receive a confirmation email containing information about joining the meeting. Thank you for continuing to support Poetry Flash and our reading series.

This reading is co-sponsored by Moe's Books in Berkeley; Maw Shein Win's Storage Unit for the Spirit House is available at bookshop.org/lists/poetry-flash-readings. Tobey Hiller's Flight Advice is available at: www.unlikelystories.org/unlikely-books/flight-advice.

MORE ABOUT THE READERS

Tobey Hiller's new collection of stories is Flight Advice: a fabulary. Thaisa Frank says, "In Flight Advice, fairy tales and myths of passion come alive in the modern world: Men with cigarettes that look like stars make love to mermaids, a genie appears in a woman's laundry room, and a writer is transformed by mysterious words. Told by a narrator with a remarkable voice that ranges from vernacular clarity to dazzling lyricism, Flight Advice is the best of contemporary magic realism." Hiller's previous books include four poetry books, most recently Crow Mind; a novel; and a work of nonfiction. Her story "Splinter" won First Prize in Craft's 2020 Short Story Elements Contest and was earlier short-listed for the first Los Gatos-Listowel Short Story Contest; "The Seventh Blue" was a finalist for the Reynolds Price Short Fiction Award. Two of her other stories have been short-listed for prizes, and Flight Advice: a fabulary was one of five finalists for Omnidawn Publishers's Fabulist Fiction Prize under the name "Particle to Wave: a fabulary." Her fiction and poetry have appeared in many journals and anthologies, including Able Muse Review, Ambush Review, Askew, Canary, The Fabulist: Words & Art, North Coast Literary Review, Sisyphus, Sin Fronteras, Spillway, and Fire and Rain: Ecopoetry of California.

Maw Shein Win's recent poetry book is Storage Unit for the Spirit House, nominated for the Northern California Book Award in Poetry, long-listed for the PEN America Open Book Award, and short-listed for the California Independent Booksellers Alliance's Golden Poppy Award for Poetry. D.A. Powell wrote of it, "Poetry has long been a vessel, a container of history, emotion, perceptions, keepsakes. This piercing, gorgeous collection stands both inside and outside of containment: the porcelain vase of stargazer lilies is considered alongside the galley convicts, the children sleeping on the cement floors of detention cells, the nats inside their spirit houses; the spirit houses inside their storage units.…These poems are portals to other worlds and to our own, a space in which one sees and one is seen. A marvelous, timely, and resilient book." Maw Shein Win's previous collections include Invisible Gifts; her chapbooks include Ruins of a glittering palace and Score and Bone. She is the inaugural Poet Laureate of the City of El Cerrito (2016-2018). She often collaborates with visual artists, musicians, and other writers and was a Spring 2021 ARC Poetry Fellow at UC Berkeley.