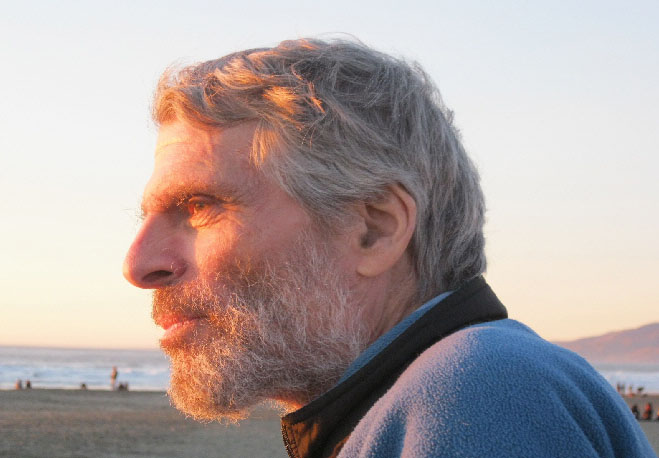 Ralph Dranow
Ralph Dranow and Judy Wells
6 MARCH 2022 — sunday
Poetry Flash presents a reading by Ralph Dranow, presenting At Work on the Garments of Refuge, his own poems with poems and art by the late Daniel Marlin, reading with poet Judy Wells, Dear Phebe: The Dickinson Sisters Go West, online via Zoom, free, 3:00 pm PST (Register to attend: please click here; you will receive an email with a link to join the reading)


Please join us for a Poetry Flash virtual launch reading on Sunday, March 6 at 3:00 pm PST! We are excited to bring you this event via Zoom. To register for this reading, please click on the link in the calendar listing above. After registering, you will receive a confirmation email containing information about joining the meeting. Thank you for continuing to support Poetry Flash and our reading series.

This reading is co-sponsored by Moe's Books in Berkeley; Ralph Dranow's At Work on the Garments of Refuge is available at bookshop.org/lists/poetry-flash-readings. Judy Well's Dear Phebe: The Dickinson Sisters Go West is available at: sugartownpublishing.com/titles_and_ordering/back_list.

MORE ABOUT THE READERS
Ralph Dranow is co-author, with the late poet and artist Daniel Marlin, of At Work on the Garments of Refuge. Gary Turchin says, "This is an exquisite book of poetry crafted by two fine poets who were best friends. Daniel Marlin, now deceased, wrote soul-stirring poems, simple, elegant, thoughtful and inspired. They're filled with dharma and the drama of real life. No subject is taboo, but each subject is handled with the deftest of touches. This is a man who had a gift for language but never over did it…always stayed grounded and real. He let his experience guide him and not his ideas.…Marlin and Dranow matured together as writers and this is the culmination of their mutual admiration." In 1978, Ralph Dranow and Daniel Marlin met while working at the Oakland, California main post office. They hit it off immediately, finding a common passion for writing and concern for social justice. Their nascent friendship took root on the level of deep mutual caring as well as support for each other's writing. They formed a writing group that lasted thirty-eight years, and continues today with new members.
Ralph Dranow is an editor, ghostwriter, and writing coach as well as a poet specializing in people's stories. He has published eight poetry books including A New Life, one short-story collection, and numerous poems and articles in magazines and newspapers: www.ralphdranow.net.
Daniel Marlin (1945-2017) was a poet, artist, translator, and peace activist. He traveled extensively, spending much time in Japan, where his wife, Toshiko, was born. His book Heart of Ardor contains over three-hundred-images of his vibrant paintings and drawings, along with commentary about his artwork. His other books include Jerusalem and the Boardwalk, Amagasaki Sketchbook, and Isaiah at the Wall: Palestine Poems.

Judy Wells newest poetry book is Dear Phebe: The Dickinson Sisters Go West. Lucille Lang Day says, "Go West, young man,' is the famous command, but many young women also heeded this advice. Among them were Judy Wells' great-grandmother Phebe Marsh Dickinson and her two sisters, distant cousins of Emily Dickinson, who came to California from Massachusetts in the late 19th century. In Dear Phebe, Wells chronicles their stories in poetry and prose." Dear Phebe is neither traditional autobiography nor strict genealogy. Letters and historical facts are turned into poems, and anecdotes become grist for the mill. As historian Lauren Coodley says, "This book is a wholly new form, fusing history and poetry, inspiring both disciplines." Bridget Connelly comments, "I loved every twist and turn of this mind-tripping story and laughed with glee when the author ends up returning her great-grandmother Phebe's one-hundred-year-overdue book to the San Francisco Public Library." Judy Wells is the author of eleven previous collections of poetry, including Everything Irish, Call Home, and The Glass Ship. She lives with her husband, avant-garde poet Dale Jensen, in Berkeley.