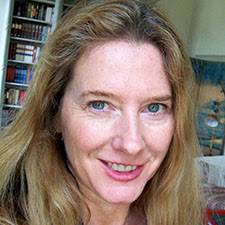 Kathleen Winter
Susan Kelly-DeWitt and Kathleen Winter
28 APRIL 2022 — thursday
Poetry Flash presents a reading by Susan Kelly-DeWitt, Gatherer's Alphabet, and Kathleen Winter, Cat's Tongue, online via Zoom, free, 7:00 pm PDT (Register to attend: please click here; you will receive an email with a link to join the reading)


Join us on Thursday, April 28, at 7:00 pm PDT for an exciting reading via Zoom. To register for this event, please click on the link in the calendar listing above. After registering, you will receive a confirmation email containing information about joining the event. Thank you for continuing to support Poetry Flash and our reading series.

This reading is co-sponsored by Moe's Books in Berkeley; the featured books are available at bookshop.org/lists/poetry-flash-readings; search for the title by author name.

MORE ABOUT THE READERS

Susan Kelly-DeWitt, a visual artist as well as a poet, reads to launch her new book, Gatherer's Alphabet, also the first book in the Gunpowder Press California Poets Series. Sandra McPherson says, "Susan Kelly-DeWitt's concentrations come to life as if in a studio, with watercolor washes and ink accentuations. As well as mother and father, ghosts and angels, words are animated characters urgently communicating—whistling to animals or dogwood gods, pinches of anger too—a tool to save us. Is she holding a pen—or a moth by its wings? Poems like "Words" and "The Thorne Miniatures" and the title poem gaze multi-eyed at the reader from the palm of her offering hand." Susan Kelly-DeWitt's books include Gravitational Tug, Spider Season, and The Fortunate Islands. She is a former Wallace Stegner Fellow whose work appears in many anthologies, and in print and online journals at home and abroad. She has been a reviewer for Library Journal, editor of the online journal Perihelion, Program Director for the Sacramento Poetry Center and the Women's Wisdom Arts Program, a Poet in the Schools and in the Prisons, and a blogger for Coal Hill Review. A Poetry Flash Contributing Editor, she is a member of the National Book Critics Circle and Northern California Book Reviewers.

Kathleen Winter's new chapbook is Cat's Tongue. W. Todd Kaneko says of it, "In [this] new collection, memory is a thing to encounter untamed, to be rediscovered and confronted before it's lost again. These poems 'go backwards / in experience, subtracting yes from yes' as they unearth secrets and regrets and yearnings, as they reckon the past with the present. Through the glint and gloom of memory, these poems portray the self in all its strength and grief, all with Winter's trademark keenness and lyrical grace." Kathleen Winter's previous books include Transformer, finalist for the Northern California Book Award in Poetry, and I will not kick my friends, winner of the 2017 Elixir Poetry Prize. Her first book, Nostalgia for the Criminal Past, won the 2013 Texas Institute of Letters Bob Bush Award, the Antivenom Prize, and the Poetry Society of America's The Writer Magazine/Emily Dickinson Award. Her poems and short fiction have appeared in The New Republic, New Statesman, Agni, Cincinnati Review, Colorado Review, Michigan Quarterly Review, Gulf Coast, Five Points, and Poetry London.