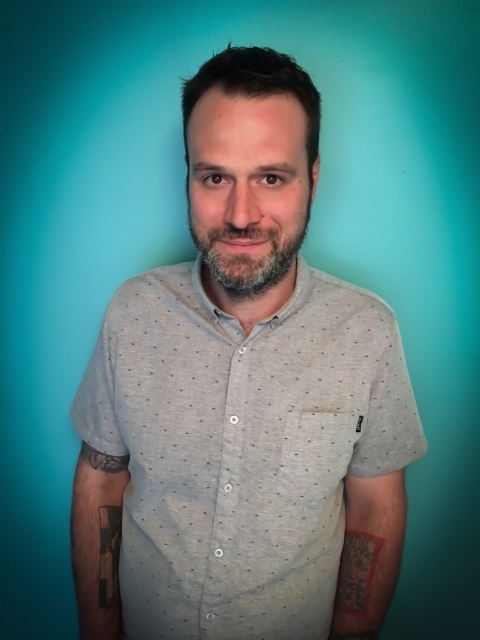 John Sibley Williams
John Sibley Williams, Rusty Morrison, Alexis Sears
12 JUNE 2022 — sunday
Poetry Flash presents a poetry reading by Rusty Morrison, Beyond the Chainlink, John Sibley Williams, Scale Model of a Country at Dawn, Cider Press Review Book Award-winner and The Drowning House, Elixir Press Poetry Award-winner, with Alexis Sears, Out of Order, Donald Justice Poetry Prize-winner, online via Zoom, free, 3:00 pm PDT (Register to attend: please click here; you will receive an email with a link to join the reading)


Please join us for a Poetry Flash virtual reading on Sunday, June 12 at 3:00 pm PDT. We are excited to bring you this event via Zoom. To register for this reading, please click on the link in the calendar listing above. After registering, you will receive a confirmation email containing information about joining the meeting. Thank you for continuing to support Poetry Flash and our reading series.

This reading is co-sponsored by Moe's Books in Berkeley. Featured books for this reading are available at bookshop.org/shop/poetryflash.

MORE ABOUT THE READERS
Rusty Morrison's most recent collection, Beyond the Chainlink, was a finalist for the Northern California Book Award in Poetry. Library Journal wrote, "As these eloquent, perfectly faceted poems attest, life is at heart our burningly patient negotiation with the everyday. We're followed by 'dangerous ideas,' risk the 'little hurt' of impulse, attempt to construct meaning (even in the backyard), and always, always desire ('This wanting, a pocket mirror I'll rub / until the silver backing rubs off.') James Laughlin Award-winner Morrison delivers poetry that feels affirmative, radiant, and lived." Her previous books include After Urgency, Tupelo's Dorset Prize-winner, the true keeps calm biding its story, winner of the Ahsahta Press Sawtooth Prize, James Laughlin Award, Northern California Book Award, and DiCastagnola Award. She is a recipient of a Civitella Ranieri fellowship, and other artist retreat fellowships. She was one of eight fellows in the 2020 UC Berkeley Art Research Center's Poetry and the Senses Program. Co-publisher of Omnidawn Publishers, she teaches and offers writing consultations.

Alexis Sears's debut collection is Out of Order, winner of the 2021 Donald Justice Poetry Prize. David Yezzi says, "If you have never read Alexis Sears, prepare yourself. Her poems draw blood. It's hard to think of a debut collection since Heart's Needle [by W.D Snodgrass] that is at once so deeply felt and so finely tuned. In her hands, form is the fist that delivers the blow, conveying the pure force of language. With so much at stake—identity, melancholia, a father's suicide in a distant place—feeling could easily overwhelm and blur, but Sears's poems remain precise and richly textured. Her poems do not succumb; they triumph, as we do, thrillingly, through them." She earned her BA in Writing Seminars at Johns Hopkins University and her MFA in poetry at the University of Wisconsin-Madison. Her work has appeared in the Birmingham Poetry Review, Cortland Review, Northwest Review, Poet Lore, E-verse Radio, Hopkins Review, Literary Matters, Best American Poetry 2022, minnesota review, Cimarron Review, Able Muse, and elsewhere. She is poetry editor of the online literary journal, Up North Lit.

John Sibley Williams is the author of nine poetry collections, including Scale Model of a Country at Dawn (Cider Press Review Poetry Award). Susan Rich says, "To conjure is a recurring theme in this impressive collection—as if language holds the power to reconfigure a past, a mother, a child. And perhaps it can. Williams's words are that convincing." His books include The Drowning House (Elixir Press Poetry Award), As One Fire Consumes Another (Orison Poetry Prize), Skin Memory (Backwaters Prize, University of Nebraska Press), and Summon (JuxtaProse Chapbook Prize). His collection, Sky Burial: New & Selected Poems, is forthcoming in translated form by the Portuguese press do lado esquerdo. A twenty-seven-time Pushcart nominee, Williams is the winner of numerous other awards, including the Laux/Millar Prize. He serves as editor of The Inflectionist Review and is founder of the Caesura Poetry Workshop series. His work has appeared in Best American Poetry, Yale Review, Verse Daily, North American Review, Prairie Schooner, and TriQuarterly.