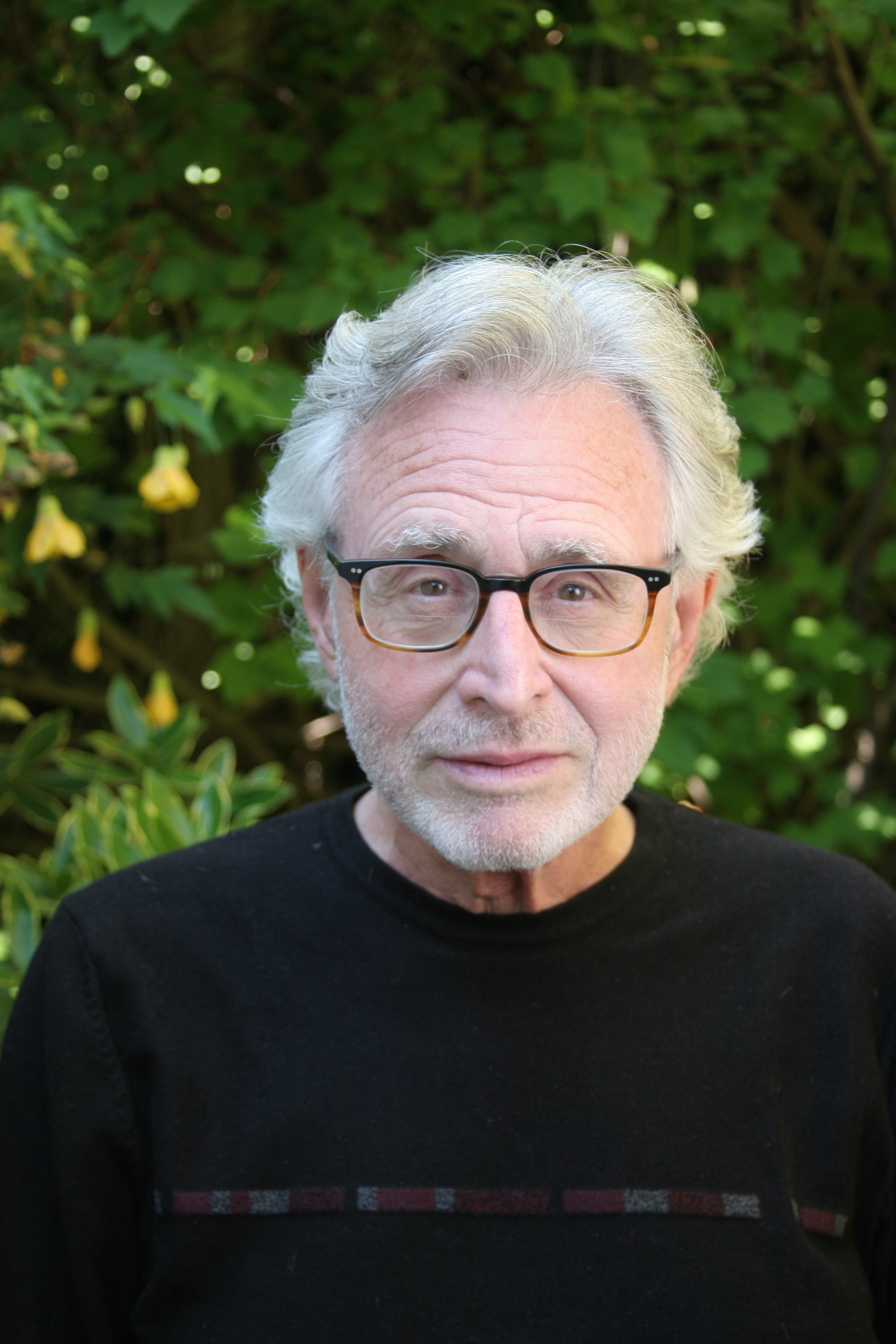 Steven Rood
Steven Rood, Richard Silberg, James M. LeCuyer
26 JUNE 2022 — sunday
Poetry Flash presents a reading by short story writer James M. Lecuyer, Duck Lessons, Richard Silberg, Associate Editor of Poetry Flash, and Steven Rood, Naming the Wind, Omnidawn Publishers, online via Zoom, free, 3:00 pm PDT (Register to attend: please click here; you will receive an email with a link to join the reading)


Please join us for a virtual reading on Sunday, June 26 at 3:00 pm PDT. We are excited to bring you this event via Zoom. To register for this reading, please click on the link in the calendar listing above. After registering, you will receive a confirmation email containing information about joining the meeting. Thank you for continuing to support Poetry Flash and our reading series.

This reading is co-sponsored by Moe's Books in Berkeley. Featured books for this reading are available at bookshop.org/shop/poetryflash. James LeCuyer's Stories for Clever Children can be found at ravenandwrenpress.com/raven-wren-bookstore.

MORE ABOUT THE READERS
James M. LeCuyer is a fiction writer, educator, and poet. His short story books include Duck Lessons and Threnody for Sturgeon. Lucille Lang Day says, "James LeCuyer's stories, rich with humor and imagination, provide insight into all stages of life…and his keen ear for dialogue enables him to bring a wide range of characters to life: fishermen, teachers, lovers, graduate students, spunky children, insolent teens. Whether writing poetically or satirically, he gives us stories that are fully realized and a great pleasure to read." His newest collection, Stories for Clever Children & All Curious and Thoughtful Adults, began as tales he spun for his grandchildren and great-grandchildren. LeCuyer holds three Masters degrees, has served in the United States Navy, worked as a commercial halibut and herring fisherman, a taxi driver, a report writer for the Berkeley Police Department, a technical writer and editor for UC Berkeley, and as a high school English teacher at School of the Arts in San Francisco.

Steven Rood is a poet and practicing trial lawyer. His new collection is Naming the Wind. C.S. Giscombe says, "Late in this ranging and wild book, …Steven Rood offers this in response to an older poet's challenge—'I have power, depth, fear / as my tones, and uncertainty as my shape.' And the beauty and the multiplicity of uncertainties—that call, that calling forth—is what this book stakes its being on." The publisher, Omnidawn, notes: "Wind moves through this collection, opening the poems to the dying beauty of the natural world, to the weathers inside the psyche and without, and to the connections between a family and between the speaker and his mentor, the great poet Jack Gilbert. The collection navigates the intimacies of human relationships with others, the challenges of working as a lawyer trying to maintain integrity as others fall prey to corporate greed, and the complexity of holding a Jewish identity while being awake to tradition's hold on the mind and its cost." An earlier iteration of the manuscript for this book was a 2019 National Poetry Series Finalist. Rood's poems appear in Quarterly West, Marin Poetry Center Anthology, Fugue, Lyric, Hayden's Ferry Review, Tar River Poetry, New Letters, The Marlboro Review, The Atlanta Review, The Southern Poetry Review, and elsewhere.

Richard Silberg is the author of six collections of poetry, most recently The Horses: New and Selected Poems and Deconstruction of the Blues, recipient of the PEN Oakland-Josephine Miles Literary Award and Northern California Book Award finalist. D. Nurkse says, "Dynamic, kaleidoscopic, shot through with a thousand faces and voices too real to be characters, Richard Silberg's work is a Chaucerian pilgrimage to strange and uncannily familiar places—Fremont, the Lower East Side, 'the humped island of Mind.' The Horses is a journey that dazzles wherever it goes as Silberg, 'an ecstatic balding older man / in a striped tee shirt,' slips into words and finds a way to make them accelerate, plummet, and soar. The goal is a new self, a way to ride out the old isms towards a possible future. The Horses is a deeply serious, wild, and powerful contribution to American letters." He co-translated, with Clare You, The Three Way Tavern, by Ko Un, Northern California Book Award-winner in Translation; Flowers Long For Stars, by Oh Sae-Young; This Side of Time, by Ko Un; and I Must Be the Wind, by Moon Chung-Hee. His poems appear in The American Poetry Review, Denver Quarterly, Volt, Parthenon West Review, ZYZZYVA, and New American Writing. Richard Silberg is Associate Editor of Poetry Flash.
Daily Listings
< previous month | show all FEBRUARY | next month >
8 FEBRUARY 2023 — wednesday
City Lights Books presents award-winning novelist Isabel Waidner, Corey Fah Does Social Mobility, discussing their new book, Sterling Karat Gold, in conversation with poet and playwright Maxe Crandall, The Nancy Reagan Collection, finalist for the Lambda Literary Award for Transgender Poetry, online via Zoom, free, Noon PST (Register to attend: citylights.com/events)
9 FEBRUARY 2023 — thursday
Open mic reading, anything goes, poetry, recitals, rants, rejoicings, come to read or to listen, and be a part of this collaborative experience, with musical accompaniment by Psi Process, every second Thursday of the month, The Ugly Mug Coffee House, 4640 Soquel Drive, Soquel, free, 5:30-7:15 pm PST
The monthly Poem Jam reading series presents writers published in the new anthology Uncommon Ground: BIPOC Journeys to Creative Activism, hosted by San Francisco Poet Laureate emerita Kim Shuck, What Unseen Thing Blows Wishes Across My Surface?, San Francisco Public Library, Latino/Hispanic Meeting Room A, 100 Larkin Street, San Francisco, free, 6:00-7:15 pm PST (More information here: sfpl.org/events/2023/02/09/performance-kim-shucks-poem-jam-celebrates-uncommon-ground)
10 FEBRUARY 2023 — friday
11 FEBRUARY 2023 — saturday
12 FEBRUARY 2023 — sunday
13 FEBRUARY 2023 — monday
14 FEBRUARY 2023 — tuesday
15 FEBRUARY 2023 — wednesday
16 FEBRUARY 2023 — thursday
Green Apple Books presents poet Tawanda Mulalu, Nearness, reading from and discussing his debut full-length collection Please make me pretty, I don't want to die, joined by poets Ritchie Hofmann, Second Empire, and Amy Shimshon-Santo, Catastrophic Molting, Green Apple Books, 1231 9th Avenue, San Francisco, free, 7:00 pm PST (More information here: www.greenapplebooks.com/event/9th-ave-tawanda-mulalu-richie-hofmann-and-amy-shimshon-santo)
17 FEBRUARY 2023 — friday
18 FEBRUARY 2023 — saturday
19 FEBRUARY 2023 — sunday
20 FEBRUARY 2023 — monday
21 FEBRUARY 2023 — tuesday
Cobalt Poets presents a reading featuring poet Shonda Buchanan, Black Indian, winner of the 2020 Indie New Generation Book Award, with open mic to follow, online via Zoom, free, 7:30 pm PST (Register to attend: www.poetrysuperhighway.com/cobalt/calendar.html)
22 FEBRUARY 2023 — wednesday
23 FEBRUARY 2023 — thursday
Poet and artist Daniela Molnar celebrates her debut collection, Chorus, winner of the Omnidawn 1st/2nd Book Award, in conjunction with her solo art show of the same name, joined by poet Brenda Hillman, Extra Hidden Life, among the Days, come for an evening of art and poetry reading, Round Weather Gallery, 951 Aileen Street, Suite P, Oakland, free, 5:00 pm PST
Kim Shuck, San Francisco Poet Laureate emerita, reads from her new collection of essays, Noodle, Rant, Tangent, San Francisco Public Library, Latino/Hispanic Meeting Room A, 100 Larkin Street, San Francisco, free, 6:00-7:15 pm PST (More information here: sfpl.org/events/2023/02/23/author-kim-shuck-noodle-rant-tangent)
24 FEBRUARY 2023 — friday
25 FEBRUARY 2023 — saturday
26 FEBRUARY 2023 — sunday
Valley Contemporary SoCal Poets Reading, featuring Laurel Ann Bogen, Washing a Language, Michael C. Ford, Emergency Exits, nominated for a 1998 Pulitzer Prize, Rick Lupert, I am not Writing a Book of Poems in Hawaii, E Amato, Swimming Through Amber, Beth Ruscio, Speaking Parts, Robert Krut, Watch Me Trick Ghosts, and Ashaki Jackson, Language Lesson, Beyond Baroque Literary Arts Center, 681 Venice Blvd., Venice Beach, Los Angeles, 2:00 pm PST (RSVP to attend: www.beyondbaroque.org/calendar.html)
27 FEBRUARY 2023 — monday
28 FEBRUARY 2023 — tuesday