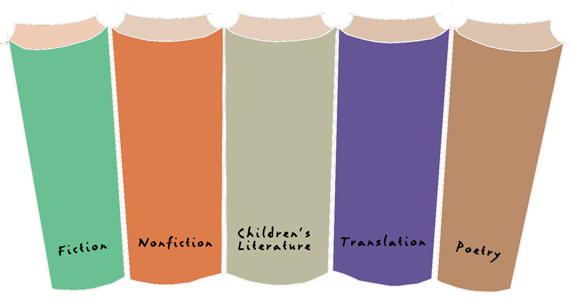 39th Annual Northern California Book Awards
PROGRAM

Sunday, September 13, 2020 • 2:00 pm PDT



NCBR Recognition Award

The Battle for People's Park, Berkeley 1969, Tom Dalzell, Foreword by Todd Gitlin, Afterword by Steve Wasserman (Heyday)



Children's Literature-Younger Readers

The Important Thing About Margaret Wise Brown, Mac Barnett, illustrated by Sarah Jacoby, Balzer + Bray
Between Us and Abuela: A Family Story from the Border, Mitali Perkins, illustrated by Sara Palacios, Farrar, Straus and Giroux Books for Young Readers
Brave with Beauty: A Story of Afghanistan, Maxine Rose Schur, art by Patricia Grush, Robin DeWitt, and Golsa Yaghoobi, Yali Books -

Winner





Children's Literature-Middle Grade

The First Dinosaur: How Science Solved the Greatest Mystery on Earth, Ian Lendler, Margaret K. McElderry Books
Emmy in the Key of Code, Aimee Lucido, Versify -

Winner


Extraordinary Birds, Sandy Stark-McGinnis, Bloomsbury



Children's Literature-Older Readers/Young Adult

The Downstairs Girl, Stacey Lee, G.P. Putnam's Sons Books for Young Readers -

Winner


Patron Saints of Nothing, Randy Ribay, Kokila/Penguin Young Readers



Translation-Poetry

Sunday Sparrows, Song Lin, translated by Jami Proctor Xu, from the Chinese, Zephyr Press -

Winner


The Fire's Journey, Part IV: The Return, Eunice Odio, translated by Keith Ekiss, Sonia P. Ticas, and Mauricio Espinoza, from the Spanish, Tavern Books



Translation-Fiction

A Devil Comes to Town, Paolo Maurensig, translated by Anne Milano Appel, from the Italian, World Editions
Mephisto's Waltz: Selected Short Stories, Sergio Pitol, translated by George Henson, from the Spanish, Deep Vellum Publishing
The Word of the Speechless: Selected Stories, Julio Ramón Ribeyro, edited and translated by Katherine Silver, from the Spanish, New York Review Books Classics -

Winner





General Nonfiction

The Invention of Yesterday: A 50,000-Year History of Human Culture, Conflict, and Connection, Tamim Ansary, PublicAffairs
The Dreamt Land: Chasing Water and Dust Across California, Mark Arax, Alfred A. Knopf -

Winner


Elderhood: Redefining Aging, Transforming Medicine, Reimagining Life, Louise Aronson, Bloomsbury Publishing
Super Pumped: The Battle for Uber, Mike Isaac, W.W. Norton
The Curious World of Seaweed, Josie Iselin, Heyday



Creative Nonfiction

The Sixth Man, Andre Iguodala with Carvell Wallace, Blue Rider Press
Socialist Realism, Trisha Low, Emily Books/Coffee House Press
How to Do Nothing: Resisting the Attention Economy, Jenny Odell, Melville House
Whose Story Is This? Old Conflicts, New Chapters, Rebecca Solnit, Haymarket Books
The Collected Schizophrenias, Esmé Weijun Wang, Graywolf Press -

Winner





NCBR Groundbreaker Award

Kim Shuck, San Francisco Poet Laureate, 2017-2020



Fiction

The Parade, Dave Eggers, Alfred A. Knopf
The Warm South, Paul Kerschen, Roundabout -

Winner


The Atlas of Reds and Blues, Devi S. Laskar, Counterpoint
The Revisioners, Margaret Wilkerson Sexton, Counterpoint
Machine, Susan Steinberg, Graywolf Press



Poetry

Locus, Jason Bayani, Omnidawn
A Little More Red Sun on the Human: New & Selected Poems, Gillian Conoley, Nightboat Books -

Winner


Scar and Flower, Lee Herrick, Word Poetry
A Folio for the Dark, Camille Norton, Sixteen Rivers Press
A Piece of Good News, Katie Peterson, Farrar, Straus and Giroux
Father's Day, Matthew Zapruder, Copper Canyon Press



Fred Cody Award For Lifetime Achievement & Service

Poet and social activist Jack Hirschman


---
Northern California Book Reviewers, NCBR, a volunteer group of book reviewers and book review editors who read and write professionally, have met regularly since 1981 to recommend books by presenting annual book awards to northern California authors. Program précis and statements on this year's nominated books are by the reviewer-members of NCBR 2020. New members are always welcome.

These NCBR members served on a 2020 committee or cast a final vote:

Children's Literature: Deborah Kelson, Mary Mackey, Richard Mandrachio, Paul Skenazy, Joyce Thompson.
Translation: Sharon Coleman, Carol Cosman, Lee Rossi, Barbara Paschke.

General Nonfiction: Fran Claggett-Holland, Susan E. Gunter, James LeCuyer.

Creative Nonfiction: Grace Feuerverger James LeCuyer, Paul Skenazy, Roberta Werdinger.

Fiction: Alta Ifland, Eileen Malone, Linda Michel-Cassidy, Amy Glynn, Toni Piccinini, Steven Simmons.

Poetry: Sharon Coleman, Joan Gelfand, Joyce Jenkins, Susan Kelly-DeWitt, Frances Phillips, David Roderick, Lee Rossi.

The entire NCBR membership, including Carolyn Cooke, Robin Ekiss, Rebecca Foust, Stephen Kessler, Summer Laurie, Jonah Raskin, Wanda Sabir, Olivia Sears, Susan Terris, and others may contribute suggestions and vote on the Fred Cody Award and the NCBR Recognition and NCBR Groundbreaker Awards. Special thanks to Stephen Bunza, Fred Dodsworth, Lily Hill, Richard Silberg, and Amy Wu.
---
Fred Cody Award For Lifetime Achievement & Service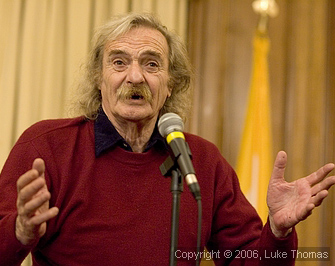 Photo by Luke Thomas.
Poet and social activist Jack Hirschman
Prolific poet, prodigious translator from several languages, enthusiastic encourager and friend to countless poets and cultural workers, activist and agitator for peace and economic justice, Jack Hirschman has been an extraordinarily generous presence in the Bay Area literary community for half a century. The fourth San Francisco Poet Laureate (2006-2008) and an informal public figure in North Beach, known for working in cafes and hawking various publications for the homeless and other social and political causes, Hirschman, at eighty-six, is an old-school radical bohemian of the highest order and a proudly independent practitioner of the poetic arts, with a jazz-infused Joycean energy in his language and undaunted idealism in his vision. Perennially outside the mainstream and known for his ideological commitment, he is the author or translator of more than 100 books published by small presses throughout the United States and Europe, most notably his epic multivolume, 1,800-plus page The Arcanes (published in Italy by Multimedia Edizioni). The editor of numerous little magazines, journals and anthologies, an organizer and performer of electrifying and unmistakably authentic benefits and reading series and festivals, mentor to younger poets and translators, and a tireless advocate for the oppressed and marginalized, Jack Hirschman has been a cultivator of creative community in the Bay Area continuously since the early 1970s. He has richly earned the honor of this recognition by his contributions to the noncommercial cultural life of Northern California.
- back to program -
NCBR Groundbreaker Award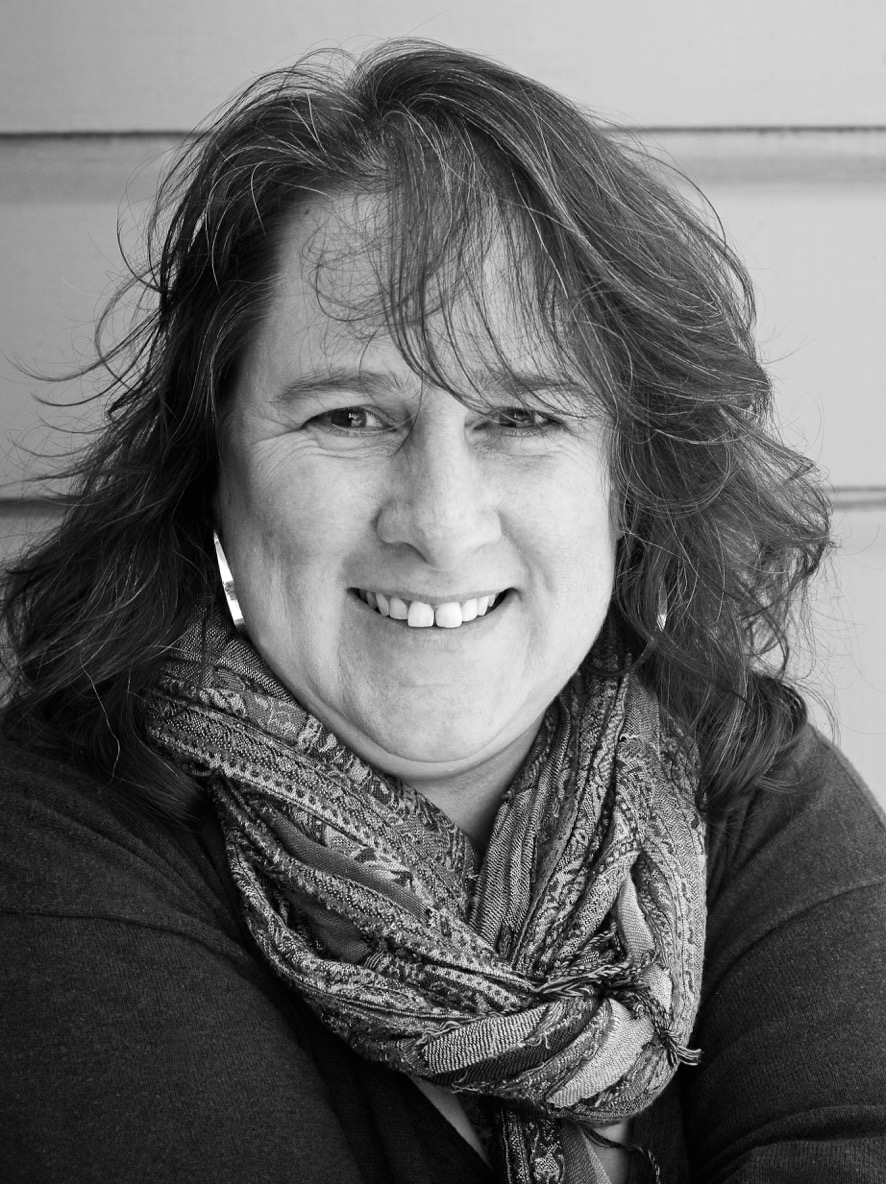 Photo by Chris Felver.
Kim Shuck, San Francisco Poet Laureate, 2017-2020
Kim Shuck is a San Francisco born and raised poet and visual artist, a maverick, an innovator, who has brought people into the circle of poetry in San Francisco who have never been included before. She has a blazed a new trail for being Poet Laureate anywhere with the number and variety of events she has produced and read at as San Francisco Poet Laureate. She has been an extraordinary Poet Laureate, launching Fire Thieves, an inter-sectional and inter-generational poetry series, and Seeds: Creating Poetic Activism, a program to help poets grow writing and reading series audiences in their own communities across the city. She has a blazed a new trail for being Poet Laureate anywhere with the number and variety of events she has produced and read at as San Francisco Poet Laureate. And she did it all while publishing a beautiful collection of poetry, Deer Trails, San Francisco Poet Laureate Series-No. 7, City Lights. Kim Shuck is a member of the Cherokee Nation of Oklahoma. Besides Deer Trails, her books include Clouds Running In (2014), Rabbit Stories (2013), Smuggling Cherokee (2005), and the chapbook Sidewalk Ndn (2018). In 2019, Shuck was awarded an inaugural National Laureate Fellowship from the Academy of American Poets and a PEN Oakland Censorship Award.
- back to program -
NCBR Recognition Award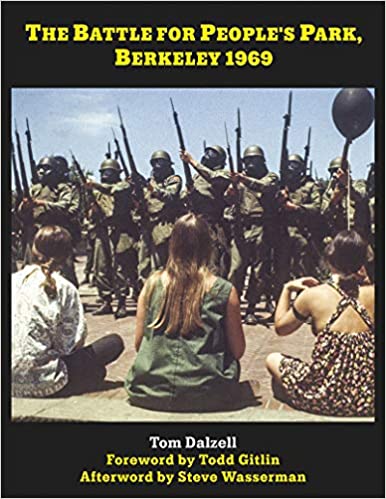 The Battle for People's Park, Berkeley 1969
Tom Dalzell, Foreword by Todd Gitlin, Afterword by Steve Wasserman
Heyday
During the 1960s, when hope and anger and a sense of justice burned in young people, when the government drummed away at patriotism and forced eighteen-year-old boys to fight a murderous, losing war against a fourth-world culture of rice farmers in Vietnam, twenty-four ancient buildings on the block behind the Caffe Mediterraneum in Berkeley were demolished by the University, using eminent domain laws. The Battle for People's Park began. A number of students had lived in these buildings, because they were run down, and therefore affordable. The Regents and Governor Ronald Reagan wanted a show of force against rebels led by "outside agitators," communists, in short. The ideals, the planning, the actions, the murder of James Rector, the gassing and wounding of student demonstrators are all in this stunning book, filled with the voices and photos of those who were there: Wendy Schlesinger, Dan Siegel, Sym Van Der Ryn, Paul Goodman, Barbara Rhine, Max Scherr (The Berkeley Barb), Jerry Rubin, Tom Hayden, Julia Vinograd, Stew Albert, Judy Gumbo, students, children, street activists, shopkeepers, standing against bayonets and shotguns. These were the true patriots, who wanted to see a more just America, their names now faded, many now gone, but brought to intense life here in their own words and images.
You want to know the Sixties? It was a battle between those who dreamt of freedom and those who were willing to kill for capitalism. And how did we get from there to here, in the 2020s, under Donald Trump and gang?
- back to program -
Poetry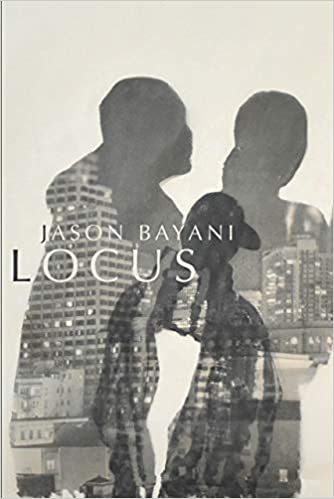 Locus
Jason Bayani
Omnidawn
Jason Bayani has built an impressive reputation as one of the Bay Area's dynamic spoken word performers. In Locus he is determined to tell about his life straddling Filipino and American cultures. The book's first poem, "Declaration for the New Year," begins, "Let me be place unmoved, / what disturbs the water / a hard humming / which is / the sound / of memory / unfurling / in the body—I will not / let this city / ( ) / I will not stop / belonging." To embody "a place unmoved," the self must be permeable to everything a particular place has to offer, its polished urban surfaces but also its grit and graffiti. Further, the empty parenthetical space in the poem's tenth line suggests a variable that must be filled with the imagination, a "locus of self" made of memories, family lore, confessions, and intimate missives. One key dimension in Bayani's intriguing immigrant story is the role and function of hip hop culture in his life, music that beckoned and carried him toward civic awareness and artistic success. Few poets are capable of prophetic lines such as these, from "How Do You Love a Gentrified City": "Maybe tomorrow, they'll throw tear gas into the street and we will teach / them how to grieve properly."?
- back to program -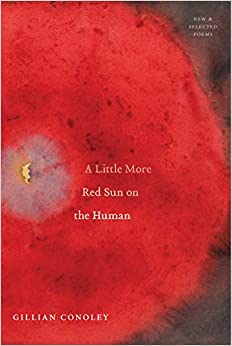 Winner
A Little More Red Sun on the Human: New & Selected Poems
Gillian Conoley
Nightboat Books
There are many innovative poets writing now, as Conoley does, freed in varying degrees from continuous discourse, description, argument, etc., but very few of them deliver her sensual impact, cogency, her vivid language, her downright human importance: among today's innovators she flies virtually soul-o. Poem after poem, there's intuitive rightness to her words that yields something of the wonder of flocks of birds, schools of fish, veering in their mysterious unisons. Across her career, too, her subjects range widely, from the ambience of her small-town Texas youth, through astronomy, Einsteinian physics, Gandhi, the politics of peace, love poems, and more, all seen in their various lights, sumptuously imagined. Her approach in editing this new and selected, as she explains in a preliminary "Author's Note," is to alter these poems' original order, so that, while they appear in roughly the same time line, they're combined differently in newly titled sections to read as a new book. It's a big book, indeed, of almost fearsome drive and sustained creativity.
- back to program -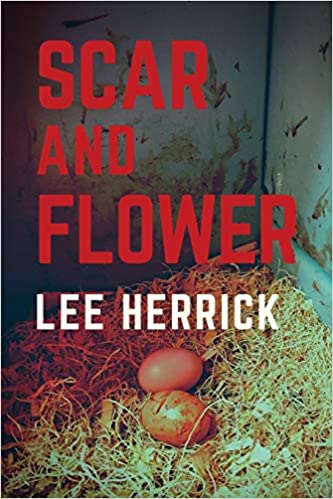 Scar and Flower
Lee Herrick
Word Poetry
Lee Herrick's third full-length collection creates a force field where "…fatigue meets fire, where we wake and wonder…" what it means to be human, how the desire for good, for hope, continues to confront and to coexist with the unspeakably tragic and inhumane. "I know all the lyrics. I know all the blood. / I know why angels howl into the moonlight."
As a Korean-American adoptee, Herrick examines the idea of displacement, in the body, in the heart, in the web of existence: "My Korean name / means bright light, // what appears after / despair."
These are also poems of rebellion, protest, witness, mourning: they "…recount, re-tally, / a retaliation…the grace, the charm, the dead, the boy, the dead boy, / the boy who died because of the fear… / …the gun, the heartbreak…" —they refuse to turn away; they insist that we face the grim, the heart inside a shooter, the violence that has become so inherent and ingrained in our culture—wars, bombs, the wave of mass shootings since Sandy Hook, the horrors and heartbreak that have engulfed us and proliferated across our nation; the despair inside a suicide.
But the poems also serve as a survival manual—linking us to the moments of love and connection—to how the transient beauties, the prismatic moments of daily life can be like luminescent angels roosting invisibly around us.
- back to program -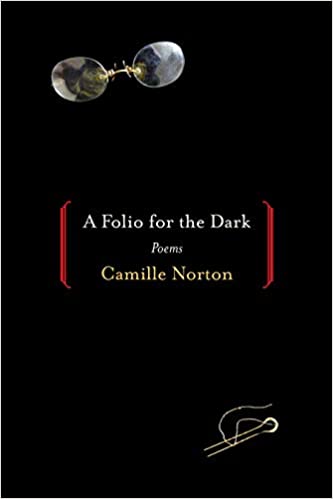 A Folio for the Dark
Camille Norton
Sixteen Rivers Press
Camille Norton's brilliant new full-length collection, A Folio for the Dark, takes us in and out of literal and metaphoric captivity, imprisonment, and exile—from/inside ourselves, our homes, our histories; from our spiritual lives; from our bodies, our sexuality. Reader, we enter these poems as both viewer and the viewed, as captor and the captured, as slave-owner and slave to the self, to the selves inside each of us shaped by circumstance, by harsh, or cold, or gentle winds of chance.
Norton's is a book for these dark times— "…a concentration, a pool of light / inwardness, loneliness / the pattern of all readers and involutes…Remembering the past by what you have been reading, / and where, and what it felt like, and what it always feels like." Imagination, empathy, scrutiny—these are the things that help us see through the clutter and clatter of myth and memory, of lies to ourselves and our futures.
Norton inhabits (through her reading) many lives here—from an inmate in a prison for confederate soldiers, to Thomas Jefferson, to Melville's whale, to Poe, to Gertrude Stein, to her own painful childhood where she discovers that: "I must sharpen, / I must gather, / I must read my way out." These poems explore, understand and witness the mess we've been left, and the mystery.
- back to program -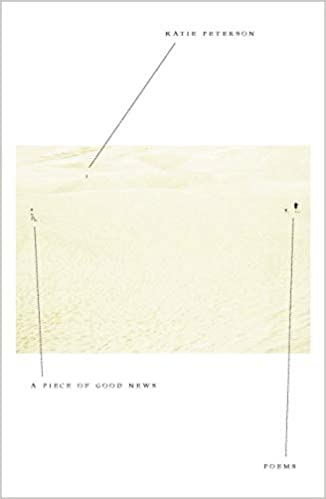 A Piece of Good News
Katie Peterson
Farrar, Straus and Giroux
There's not a single poem in this attention-grabbing book that moves smoothly from beginning to end like the hull of a ship. Instead, the poems move in bright slaloms through their courses; so as an example, her final poem, "Paul Bowles," begins with a book of his, moves through the Norman word 'husband', younger, she says, than 'wife', and ends, a page and a half later with "In times like these, no one asks for sugar." The effect is quirky, stimulating, and mysterious. Another idiosyncrasy here is that, though this is a book of lyric poems, filled with her sharp, perceptive voice, there's the sense that the speaker's feelings are 'anesthetized'. A key example: in "The Massachusetts Book of the Dead," an elegy for her mother and perhaps the book's central poem, the closest she comes to mourning is to say, "My mother died at nine o'clock at night. / I will be awake / past my bedtime forever." Notably, the closest she comes to an openly 'up', lyrical statement also relates to her mother: ending "Music, 1980," when her mother begins to cry for the Beatles at the news of Lennon's death, she writes "…Music, / it was not sadness / that gave birth to you, / but astonishment. / The person whose body / I lived inside loved / something before me / and drove around singing." Whatever may be withheld, however, only sharpens the interest in what's given. Peterson's voice is probing, continually surprising, lyrically deft. Good news, indeed.
- back to program -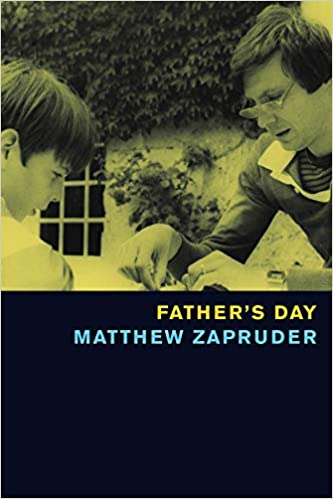 Father's Day
Matthew Zapruder
Copper Canyon Press
"Like all strangers who temporarily / find themselves moving in the same direction / we look out the window / without really seeing…" writes Matthew Zapruder, in Father's Day, his fifth book of poems. That keen observation points to our narrow-minded and often aimless human projects. And our failures as well, both collective and personal. On a macrocosmic level, Zapruder's new poems are filled with fear for America's future during this fraught political moment. Within the drama of his own intimate family situation, Zapruder explores the pain and fear of navigating family life after learning about his son's ASD (autism spectrum disorder) diagnosis. Becoming a father has brought a new quality of tenderness and compassion to Zapruder's work. Regardless of whom he addresses in these poems, whether it's his son, a contemporary poet, or public figures such as Paul Ryan or Roseanne Barr, Zapruder's essential aim in Father's Day is to embrace civic responsibility and travel through his own fear toward understanding. Occasionally there are even glints of hope. With his characteristic wit, and music crafted in short, artful lines, Zapruder reminds us that we're the stewards of language, and that, even in a fallen world, we have a right to our own failures and desires. This clear message is one of Father's Day's many accomplishments.
- back to program -
Fiction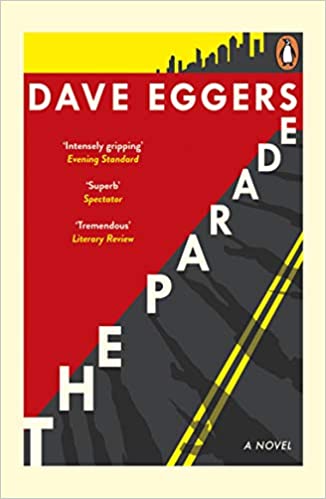 The Parade
Dave Eggers
Alfred A. Knopf
The Parade is set along a construction route in the aftermath of civil war in an unnamed country. As part of the peacetime treaty, this new road will unite the impoverished and isolated south with the more-developed north, a plan with logistical and conceptual benefits for all. Supposedly. This gesture of unity is welcomed by all parties, and upon completion, the government-produced venture will be marked by a parade. "Once paved, the highway would be sublime." Nameless foreign contractors are hired to build the highway, aided by the RS-80, a technological wonder. Thanks to this machine, the project can be completed by just two workers, provided they stick to a tight schedule and follow diplomatic protocol.
The robotic and rule-abiding "Four" is a veteran of such operations, and looks only towards completion of the mission. In contrast, the impulsive and cavalier "Nine" interacts with the locals in ways that are at times sympathetic, and at others opportunist. They symbolize two of the ways "helper" governments interact with the other. While Four obsesses over the timeline and lulls himself to sleep listening to recordings from home, Nine indulges in the carnal and gustatory offerings of the settlements through which they pass. Eventually, Four is forced to interact with locals Medallion and Cousin.
The Parade might at first read as a moral tale against development, but it goes further, implicating "benevolent" outsider influences, anonymity, and blind trust. Here, Eggers writes a bold, minimalist, and timeless allegory.
- back to program -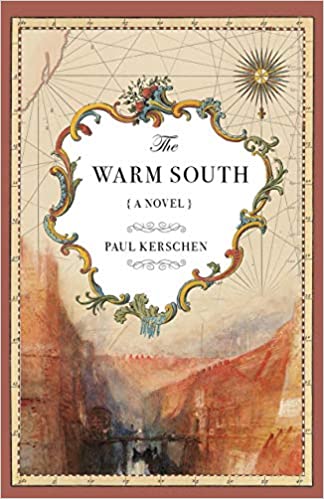 Winner
The Warm South
Paul Kerschen
Roundabout
Poor John Keats. So epically talented and so doomed. What if he hadn't died at twenty-five? Paul Kerschen's The Warm South presents an alternate-timeline version of the tubercular superbard in which he survives his illness, leaves Joseph Severn at his easel, and traverses Italy, becoming re-engaged with his medical training and surprisingly embroiled in local politics. In prose that's consistently fine (and, at its best, luminous and exceedingly witty), Kerschen contemplates a question it's hard not to ask of the English Romantics and especially the prolific and disturbingly gifted Keats: What else would they have done, had their lives not been so tragically short? To what extent was Keats's impact on the Western canon inextricably linked to the very fact of his short life? The "change one inflection point and watch the ripples" trope common to science fiction is brought to life in an entirely different way in the context of historical fiction, and Kerschen strikes a poignant tone here. Recovered Keats, who mockingly calls himself "Orpheus," in reference less to his poetic genius than to his having made an unlikely return from Hades, feels ill at ease in his own milieu, removed from his own life even as he treats patients in Pisa, becomes more and more enmeshed with the Shelleys, with local politics, and with the world at large. For all that he's given a magical second chance, a veil of melancholy seems to hover around him, a gauzy remove that reminds us constantly that this is what didn't happen. The Warm South is a masterful meditation on a writer who has transfixed us for well over a century, but more than that, it's a meditation on our relationships with literature and with our own creative impulses.
- back to program -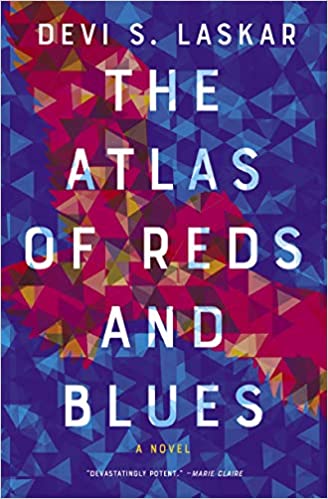 The Atlas of Reds and Blues
Devi S. Laskar
Counterpoint
A woman lies in a driveway, bleeding from a gunshot wound inflicted by police. This moment is one from which panoplies of other moments stretch back and forward in time in Devi Laskar's Atlas of Reds and Blues. An immigrant story, a meditation on race in America, a treatise on family baggage, intergenerational tensions, gender politics, and marital power dynamics, it unfurls in short, fast-moving fragments that sometimes give the effect of an emptied-out box of old photographs, each one containing its own moment, its own story, while also remaining fundamentally part of a larger, accretive, iterative story. This is a poet's novel to be sure, one that leverages the stochastic, the piecemeal, and the out-of-time—but it's also swift-moving, plain-spoken; a laundry list of grievances that accrue predictably and are no less unnerving for it. Laskar's prose ranges from journalistic to poetic (and indeed she has been both prior to this debut novel) and develops a Janus-faced combination of intimacy and distance, connection and disconnection, stasis and movement. Poets who turn to fiction often have a particularly strong sense of form as a vehicle for layers of meaning, and Laskar's certainly no exception; this is a paean to unbelonging, an almanac of unease—sometimes good-humored and sometimes wrathful, sometimes sentimental and sometimes surgical—Laskar has somehow managed the formal mirror of a river with a fast current: smooth on the surface, eddied at the edges, occasionally meandering and occasionally rapid-tumbling, with a vein of stillness at the bottom.
- back to program -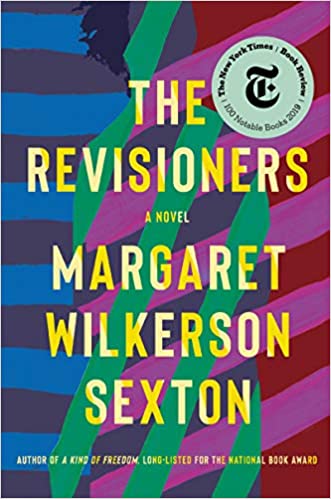 The Revisioners
Margaret Wilkerson Sexton
Counterpoint
This beautifully written novel, The Revisioners, is told from the dual perspectives of Ava, a bi-racial single mother, and her great-great-grandmother, Josephine, who was raised in slavery. Ava, whose story is present-day, moves in with her white grandmother, Martha, as her companion. An economic decision, this will also allow Ava's teen son, King, to go to a better school and to get to know his father's side. King takes to the new situation, but the grandmother's mental health deteriorates almost immediately. Ava's mother, a healer, is against Ava staying with her ex-mother-in-law.
- back to program -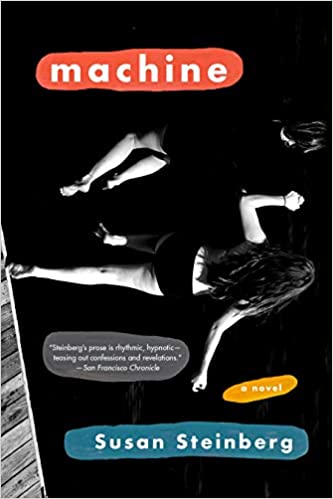 Machine
Susan Steinberg
Graywolf Press
Susan Steinberg's unsettling novel, Machine, dazzles and challenges the reader with form and content. The tiny tails of the ubiquitous slippery semicolons hiss the summer story of the accidental/show-off/we don't know drowning of a local girl. In the first chapter, Killers, we are thrown into the dark deep end: "we tend not to swim at night; no, we tend not to swim at night with guys; we all knew the girl who drowned; she sank like a stone, they said.…"
Our reliable/unreliable narrator revisits that night and other nights of a nightmare. The ghost of the dead teen hovers in chapters as different from each other as the wealthy vacationers are from the townies. Businessman father is unfaithful to mother; illuminates son to the ways of "managing girls"; enlists daughter to his side. Suppliant mother discovers, knows, always knew. In the chapter, Saviors, Steinberg writes, "This is a story about context. About things being out of context. There's no closer read to do than that." Impossible to categorize; impossible to put down, Machine haunts long after the boats are put away; long after the interlopers are returned and sequestered in private schools and legacy colleges; longer after snow covers the dead asleep in the frozen ground.
- back to program -
General Nonfiction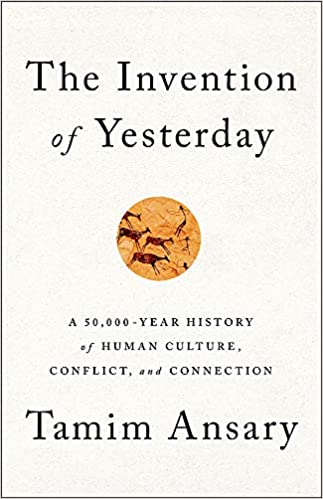 The Invention of Yesterday: A 50,000-Year History of Human Culture, Conflict, and Connection
Tamim Ansary
PublicAffairs
Who were we, and what shall we become? What does the Singularity portend? The effort to cover so much in a single book seems impossible, but here it is, beautifully written by a master craftsman. He seeks interconnectedness. How did the Great Wall of China influence the Roman Empire? It sent the Mongols and Huns raiding west to crash through the Kushans, the Parthians, the Germans and eventually against Roman outposts. Germans joined the Romans and fought against a mass of Goths and Vandals. Rome, under Constantine, turned Christian. It never exactly fell. It changed.
Muhammad brought his message from God, and an Islamic revolution shook the world. Arabic became a language of trade, especially the slave trade. Muslims blended with Persians. In the East, Taoism and Buddhism helped form a cohesive and powerful China. Chinese influence drifted into India. In Africa, great dynasties rose and fell: Ghana, Mali, Songhai, Berber. The Vikings raged west and east, traveling far up the Dnieper and Volga Rivers into what is now Russia, a land of Slavs conquered by these Vikings, who then called themselves Rus, thus Russians. Genghis Khan brought apparently unconquerable Mongol hordes to the borders of Europe to form the biggest contiguous empire ever seen (until the USSR).
Ansary is Afghan-American, having come to the U.S. when he was a teen. His comprehension particularly of Middle East and Far Eastern history is detailed and extensive. He brings much information that is refreshingly non-Western. A book to be read again and again, a broad sweep that will lead you into your own research.
- back to program -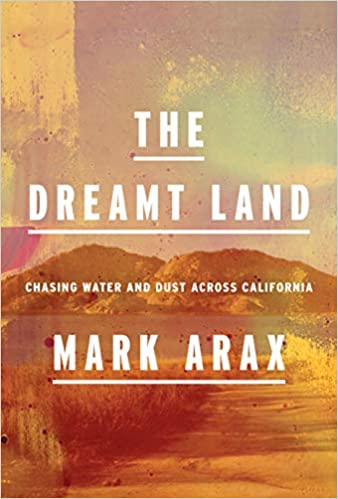 Winner
The Dreamt Land: Chasing Water and Dust Across California
Mark Arax
Alfred A. Knopf
Almonds, Figs, Walnuts, Nectarines, Pomegranates, Citron—the list of agricultural bounty goes on, with story after story, and eventually it all comes down to water and the need for it. Concurrent with the depiction of the greed of the big farmers and their increasing need for water is the story of its depletion and of the attempts to contain it in California.
Mark Arax has accomplished an amazing feat in his chronicle of the land where, as poet Richard Wilbur describes it, "eyes become the sunlight, and the hand / is worthy of water: the dreamt land." Arax has a plethora of writing awards behind him, which contribute to his ability to mesh fact, historical accuracy, personal and recorded memoirs, and the good, old-fashioned narrative in telling the story of water, which is, ultimately, the story of California. The book makes the story even more vivid with maps and photographs. There are more dams than most Californians have any knowledge of, and close-ups of the people and where they lived. There are photographs of acres and acres of orchards, and pictures of individual fruits. The story of the citron, for example, is one known by Jewish communities as it plays a role in some of their rituals. As readers, we learn a tremendous amount about the varieties of products, ever-changing in the valley.
In telling these stories, Arax introduces us to many fascinating individuals—quite a few known to Arax himself as he writes from the central valley, his home in the heart of agriculture in California. It is a journey with a primary focus, even as Arax takes us on a lot of byways in telling this heartbreaking story of the importance of water to every aspect of our lives here in the "dreamt land" of California.
- back to program -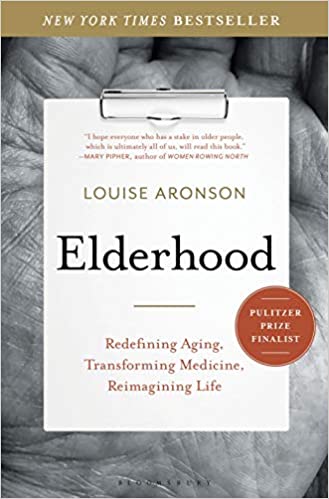 Elderhood: Redefining Aging, Transforming Medicine Reimagining Life
Louise Aronson
Bloomsbury Publishing
Louise Aronson, a writer as well as geriatric doctor, has used her talents and skills well to write this book that combines her passionate interest in the lives of the elders of our society with her knowledge and experience of the medical aspects of growing old. The book is filled with accurate medical knowledge. It is also in part a memoir of her experience as a daughter, as a doctor, and as an individual growing older.
The book is couched in story after story. Throughout the book, we have sketches of her mother's path toward and into elderhood. We see her fears for her mother translated into stories of her patients, even as we see her mother making choices that engage her in living a productive, satisfying elderhood.
Aronson includes in her discussions about growing old bits of history, philosophy, scientific thinking at various ages of our cultural history. She quotes writers who have written into an advanced age. She never, however, loses the thread of her narrative through the biological years. She begins, appropriately, with birth, then takes us through childhood, the various stages of adulthood, then to how we as a society view old age, generally lumped together as just that, old age.
What distinguishes this book from others, is her division of old age into old, elderly, and aged. These categories, which comprise the elderhood of her title, have distinctive characteristics, needs, health concerns. She discusses the importance of purpose in the lives of the elderly. Finally, she makes a plea for all aspects of our culture to become aware of these distinctions rather than being dismissive, as so many doctors and general citizens are.
Aronson has done a great service in giving us this very readable work. It shines a powerful light on the future that awaits us, in the hope that this future might be changed with awareness, as in her subtitle: Redefining Aging, Transforming Medicine, Reimagining Life.
- back to program -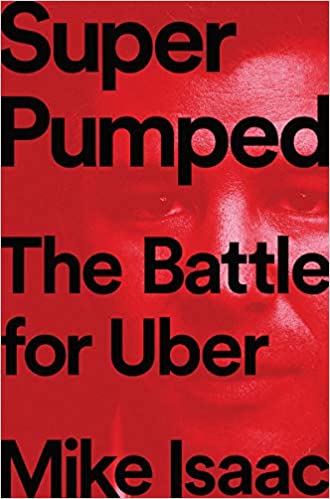 Super Pumped: The Battle for Uber
Mike Isaac
W.W. Norton
Mike Isaac's gripping saga of the rise and fall of Travis Kalanick, C.E.O. of the startup car ride company Uber, reads like a medieval morality tale. Or even a bit like Chaucer's "Pardoner's Tale," where his protagonist found death in a heap of gold. The book traces Kalanick's trajectory from his middle-class home in Northridge, California, to his milestone anything-goes Las Vegas party "X to the X," to his eventual fall from power. The hyper-energetic founder used the power of code (smartphones, GPS, data analysis) to develop a business that moved people and goods more efficiently. Nothing interfered with his race to wealth and power: he recruited former FBI agents help break into markets where Uber was forbidden, convinced drivers to work with zero benefits or legal protection, exploited customers' personal data, and created a sexist workplace where his employees were driven to succeed no matter the personal cost. With his motto "always be hustlin'" and the support of prominent citizens like Arianna Huffington, he convinced prominent venture capitalists to underwrite his rapidly expanding international market—until one employee, site engineer Susan Fowler, blew the whistle on his toxic work culture. The fallout from the memo she published on Uber's work culture eventually led to a failed I.P.O. and to Kalanick's losing control of his own board. Isaac gifts his readers with a wonderfully written and compelling narrative revealing the dark side of contemporary America's capitalist culture.
- back to program -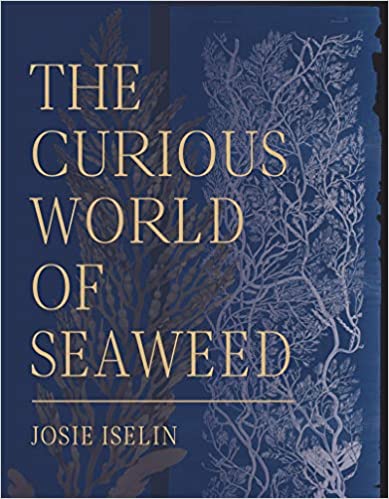 The Curious World of Seaweed
Josise Iselin
Heyday
This exquisitely illustrated book immerses its readers in a fascinating world of the flora we often take for granted. Iselin combines extensive historical research with many years of her own meticulous observations of the sea's bounty, the kelp, algae, seagrass, eelgrass and other species we see as we walk our coastal beaches, to give us an expansive understanding of the importance of these highly diverse aquatic forests to our endangered ecosystem. She uses both her own and restored historical illustrations to show us the beauty of these weeds, presenting the dangers that assail them and offering sensible solutions to ensure their future health. The book functions both as a guide for those who wish to explore seashores themselves and an overview of these incredible systems. She intersperses anecdotal details of early scientists and her own stories with scientific descriptions that make Curious World an engaging read. She features Archibald Menzies, an early British naturalist who accompanied contentious explorer George Vancouver on his expedition to the Northwest and collected live specimens of the seal life he encountered. We learn of the amazing bull kelp, that can grow six to ten inches a day and reach a height of sixty feet in only months. Iselin calls this kelp an "ecosystem driver," as it provides a habitat for countless fish and invertebrates, as well as providing delicious human food. With the slaughter of the sea otter, however, and the warming of the ocean temperature, these and other seaweed species are threatened. She advocates restoring the sea otter as one way to restore health to our seaweeds. This book is a welcome addition to the literature of our ecosystem.
- back to program -
Creative Nonfiction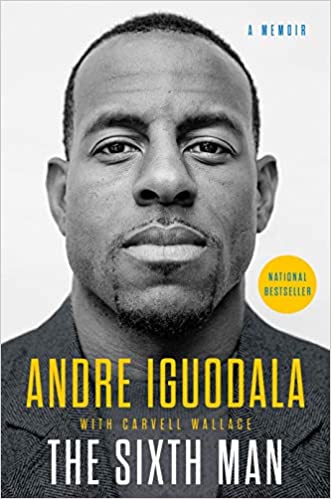 The Sixth Man
Andre Iguodala
Blue Rider Press
Anyone living in the Bay Area knows who Andre Iguodala is, and what role he played on the Golden State Warriors. This book displays that public figure but also introduces us to some of the quieter and more revealing aspects of Iguodala. The memoir, written with Carvell Wallace, takes Iguodala from his days growing up in Springfield, Illinois to his Warrior years. The most touching sections are the early ones that describe Iguodala's independent mother, his first tentative moments on a basketball court, and the friendly and not-as-friendly competitions with other athletes all through high school. He moves from there into his brief stint at nineteen at the University of Arizona, and the draft that brought him to the Philadelphia Seventy-Sixers. Once Iguodala reaches the NBA, the book becomes more anecdotal, and many of the anecdotes are telling: the tips he got from Allen Iverson; his comments on the biases of referees; the way the Warriors ran out of gas in their record-making 2016 season. He also speaks candidly about race and the ways it has hardened him but also how he has refused to bow down to the pressures. Finally there is the title: Iguodala's willingness to be the 'sixth man', a reserve rather than a starter for the championship Warriors' teams. It was a role he found difficult to embrace; it was one he deftly turned into his key position as the emotional ballast of the team. One feels the same intelligence, playfulness, self-deprecation and love for basketball in reading this that was so apparent in every one of Iguodala's post-game interviews or minutes on the court.
- back to program -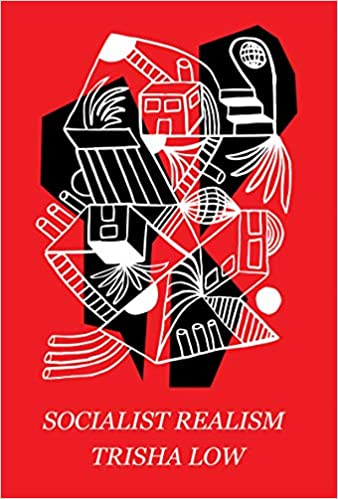 Socialist Realism
Trisha Low
Coffee House Press
A young Asian woman, Trisha Low, was brought to America from Singapore by her parents to experience new things. She found a dead whale, The Talented Mr. Ripley, unanswerable questions about what freedom is and isn't. She tries waterboarding as an s-m performance, and experiences gay love and bi-love, and realizes that living is a lot harder than dying. She's insecure, investigating everything that drifts her way, sex, racism, AIDS as an erotic drama. She'd like to rebel, at least complain, but she says, "I don't know how to struggle correctly."
Maybe she's lost, maybe not. Maybe she's suffering. Her prose is exciting, detailed, candid. Her humor is subtle, created by the weird situations she finds herself in. She's just a regular, beautiful, brilliant, philosophical, American/Singaporean girl who came to California with her then boyfriend. She's sometimes astonished, but willing to try anything. She might be searching for a home, but not exactly. She searches far and wee.
She writes, "I'm at the Tate Modern, and I need to pee. It's starting to hurt. I can't find the bathroom, so I peer into the blank, sky blue oval of a farmer's head. I twist one leg around the other. There's a slight remnant of refusal in its glossy, abstract indifference, its suggestion of homogeneity. A mild hint that the communist haven he (Kazimir Malevich) is depicting might not be all it's cracked up to be…a sardonic refrain that we the people have made it. That the perfect homeland has finally arrived!"
- back to program -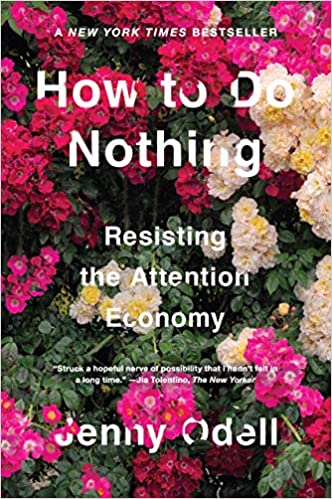 How to Do Nothing: Resisting the Attention Economy
Josise Iselin
Melville House
I once visited a family friend residing in a tract housing development in the San Jose area, not far from where author and multimedia artist Jenny Odell grew up. "Before all this was built," my host told me, waving at the identical houses and denuded landscape, "there was nothing here." How To Do Nothing is the book I wish I could have given to him then. Beginning and ending with her encounters with nature in the Oakland Hills and just outside her Oakland home, Odell explores the work of artists, philosophers, activists, and outliers of all stripes and eras who employed overt or covert means in order to create a "third space" outside of conventional human agreements. Her wide-ranging discussion incorporates everyone from Diogenes of Sinope in fourth century Athens to Henry David Thoreau to modern-day performance artist Tehching Hsieh (who locked himself in a cage for a year) to show how "strict alignment with one's own 'laws'" can up-end tired social conventions and introduce fresh perceptions. Odell is a careful, even-keeled writer. She is not interested in blanket condemnations and does not suggest we delete our social media accounts. Rather, she suggests we engage in "a mass movement of attention" so that a commons that is at once physical and imaginal can come into being. How To Do Nothing delivers on its title's promise: It is a handbook for reframing and repurposing our vision so that the tweets we hear outside our window are at least as compelling as the tweets scrolling on our phone.
- back to program -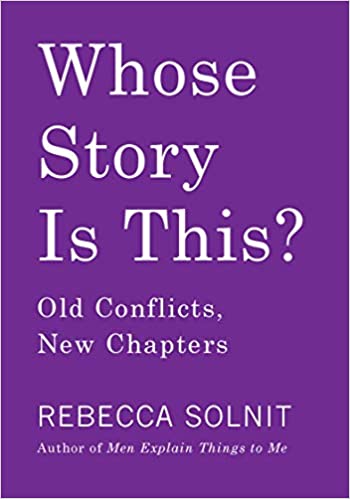 Whose Story Is This? Old Conflicts, New Chapters
Rebecca Solnit
Haymarket
Nobody can kick ass and at the same time write a beautifully balanced English sentence like Rebecca Solnit. In these twenty essays, Solnit roams the surreal landscape of the Trump era in order to, in her own words, record "the seismic activity in feminism, racial justice, climate action, and other human rights movements" that has arisen in response to constant assaults upon women, immigrants, BIPOC, nonbinary people, and upon our very allegiance to truth itself. Solnit restores that allegiance by uniting a deep and sincere moral sense with a crack journalist's instinct. She's able to produce an apt turn of phrase: "It isn't pro-life, it is pro-lie," she writes of a Republican proposal to force women with ectopic pregnancies into a "re-implantation procedure," a medical impossibility; "It's easier to throw a woman under a bus than a culture," she comments elsewhere, of the wall of denial and dismissal that women who undergo sexual predation face. Even while she swims the rapidly moving currents of the times, Solnit is able to dive beneath the surface and plumb the deeper meanings of the stories that command our attention. She speaks for those whose stories might remain untold, and yet she retains a sense of zest and fun that evinces an abiding faith in humanity. These essays, along with the author's abiding presence as a truth-teller in a truth-twisting regime, are a great gift to all who hope and work for a better world.
- back to program -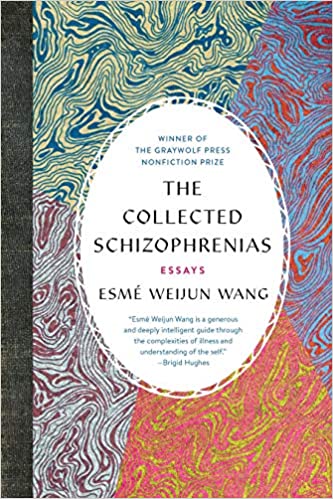 Winner
The Collected Schizophrenias
Esmé Weijun Wang
Heyday
The Collected Schizophrenias mixes memoir, reportage and scientific research with philosophic asides about the self, identity, illness, madness and sanity (however ineptly understood or lived). "Collected" refers to Wang's multiple approaches to the issue of what it is to live as, be seen and not seen as, write about and be, someone diagnosed with schizoidaffective disorder. In a series of essays loosely strung together, Wang moves freely from a chapter on schizophrenia itself, to an examination of a court case involving a mother and sister who kill their schizophrenic son/brother, to an exploration of diagnoses, psychiatric labels and their consequences, to a brief examination of a young, successful female photographer who killed herself, to what it feels like to live and yet know that you are actually dead. Many of Wang's most wrenching moments come over mundane and seemingly ordinary choices that challenge her capacities. How should she dress to look sane? What TV shows or movies can she see safely without activating one or another of her demons? It's hard not to be astounded just at the fact that this book exists let alone realize how complex, thoughtful, frank and yet lyrical the stories become in Wang's capable hands.
- back to program -
Translation in Poetry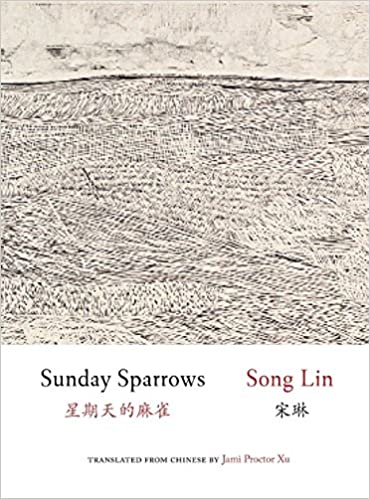 Winner
Sunday Sparrows
Song Lin, translated by Jami Proctor Xu, from the Chinese
Zephyr Press
Jailed during the Tiananmen protests, poet Song Lin is a survivor, and the poems in this new translation of his work, testify to his resilience. Spiritual wanderer, world traveler, he draws not just on contemporary and classical Chinese poetry, but also on European and New World literary traditions. Even the simplest pieces embody complex interactions between the real and the surreal.
Transformation occurs without warning; in "Jiangyin Ditty" a man falls asleep, and suddenly his friends become sturgeon and butterflies. Emotions are similarly malleable: "Thinking of Another Journey While on a Rio de la Plata Ferry" reads at first as a meditation on death; he is crossing "this body of water…as wide as the Lethe." Yet by the end of the poem the mood is altogether different, the poet erasing the physical boundary separating him from a lover: "Our lips are pressed together."
Despite this constantly shifting terrain, there is room for constancy: parental tenderness and parental pride declare themselves unabashedly. "Climbing a Mountain with My Son on My Shoulders" offers a lesson in outdoorsmanship but also in the unity of all things: "Our skin is the friend of mountains and air." The poem concludes with father and son totally transformed: "Facing the cave, we roar like animals."
It is no accident that in our troubled times Song Lin wields surrealism as a weapon of indirect but powerful social commentary. In "Commemoration" he observes "a group of karst-shaped people…to ashes." They are saints, he tells us, "early saints replete with Christian melancholy / [who] wanted to build a final martyrs village / in the domain of delusion." Are these fellow democracy campaigners or the apparatchiks who ordered the Tiananmen massacre? Readers and censors can take their pick. Skillfully translated by Jami Proctor Xu, these poems offer a glimpse of an important voice in contemporary Chinese culture.
- back to program -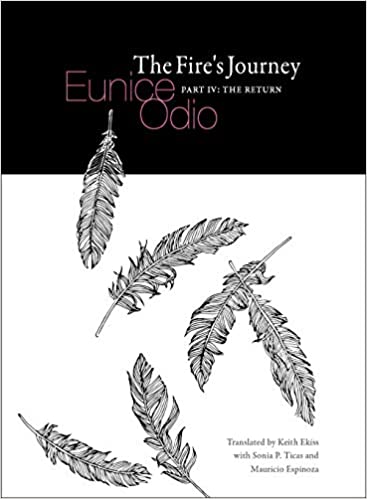 The Fire's Journey, Part IV: The Return
Eunice Odio, translated from the Spanish by Keith Ekiss, Sonia P. Ticas, and Mauricio Espinoza
Tavern Books
The Fire's Journey, Part IV: The Return completes the translation of Eunice Odio's lyrical epic that delves into the primordial linguistic act of the word as creation and the journey of the wordsmith as creator. On par with William Blake and his epic prophesies, Odio builds the mytho-poetic world of Ion, on his journeying into the act of creation through a melding of classical Greek mythology, new world shamanism, and Odio's mythic invention: "My face was written / with the sign that makes all things grow / the one that binds and unbinds what's to come / the one that bears what's gone forever; / my appearance was part of the year / part of the wind's fruit / so shapeless and aimless / the shade of a flower crossed it." In this last section of the cycle, the poet hero, Ion, returns home to a very mixed reaction that puts his personal heroism as the bearer of the poetic word into communal perspective; his encounters with his mother, brothers, and the city folk reveal the psychological complexities faced by the poet creator who works in isolation. Born in Costa Rica, Eunice Odio herself lived a peripatetic life in Central America, Mexico, and the United States. This translation completing her epic work brings a neglected voice of Latin American poetics to English speakers. The translators have wonderfully recreated in English the tones and registers of the various characters in this dramatic poem, and so rendered fluid the deep lyricism of Odio's Spanish.
- back to program -
Translation in Fiction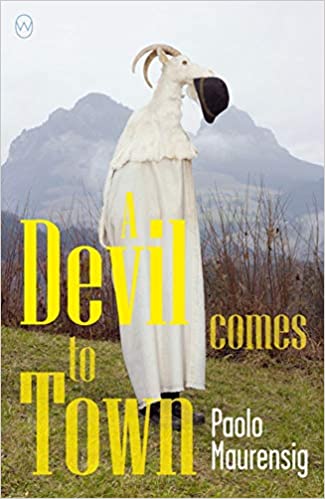 A Devil Comes to Town
Paolo Maurensig, translated by Anne Milano Appel, from the Italian
World Editions
Maurensig was born in Udine, Italy. His debut novel, The Luneburg Variation, sold two million copies in Italy and was translated into twenty-five languages. In this clever, funny and riveting tale, the "teller" Is a man compelled to tell the traveler he meets at an inn his whole story from start to finish. And so what has befallen him has been "recorded" as the basis for this tale.
In a small Swiss village full of aspiring would-be writers, wild rabies runs rampant through the woods. The foxes are gaining ground, boldly making their way into the village. In Dichtersruhe, an insular yet charming haven sheltered by the Swiss mountains, these omens go unnoticed by all but the new parish priest, a stranger who has come only recently, and decides to stay to fill this conveniently unfilled position.
He, too, has arrived through the woods: a defrocked monk though unwilling to shed his cassock, he has also been professor of Divinity and schooled in the modern theories of Freud and Jung. He signs up to speak at a local symposium on the modern theories being discussed, ultimately to warn the town's citizens that the Devil himself is amongst them and responsible for all their ills. Everyone scoffs, of course; they have other things on their minds, namely Literature.
Still, the inhabitants welcome the monk as their new parish priest, and he becomes an intimate observer of their affairs.
In Dichtersruhe, nights are spent reworking manuscripts. So when another stranger comes to town, claiming to be a famous publisher, unsatisfied authors' desires are unleashed and the village's former harmony is shattered. Having vowed never to sell a square meter of their beautiful town and its surroundings to outsiders, this stranger is prepared to appeal to their greed: for self-promotion, fierce competition for recognition, publication and money. He presses them relentlessly to sell him property in town, against their mutual agreement. Meanwhile, the monk tries to identify this smooth, slick, black-haired stranger as the Devil himself. Tense with foreboding and suspense, Maurensig gives us a riveting plot twist at the end of this tale of self-interest, overweening competitive ambition, and our deep need for stories—in a more than competent and fluent translation by Anne Milano Appel.
- back to program -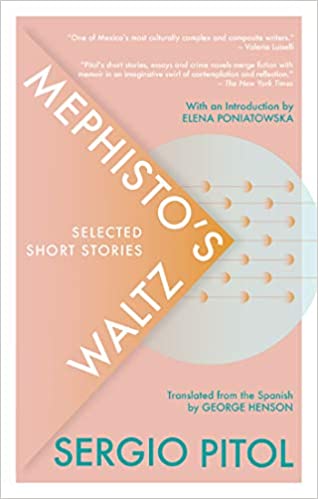 Mephisto's Waltz: Selected Short Stories
Sergio Pitol, translated from the Spanish by George Henson
Deep Vellum Publishing
Sergio Pitol grew up, sickly, with his aristocratic grandmother on their remote hacienda in Mexico, surrounded by books that took him to the far corners of the earth. He studied law and philosophy in Mexico City, and spent many years as ambassador or cultural attaché—in Poland (where he actually became a citizen), Hungary, China, Italy and France. It seems the further he traveled, the more he blurred the boundaries between the fantastic and the real.
He once told a friend that a key to understanding his work was this: "Usually, when I write a story, there is an area of emptiness, a kind of psychological cave that I am not interested in filling." The characters in Mephisto's Waltz, a selection of his short stories, inhabit this space, which can be as unhealthy as the Córdoba of his childhood.
The title story, for instance, tells of a failing marriage, but it is also an allegory of the troubled relationship between reader and writer. The husband is an avant-garde storyteller for whom incident is "a mere pretext to establish a web of associations and reflections that explained the meaning that for him made up the very act of narrating." The wife, however, who reads and critiques her husband's stories before publication, prefers realism. Not surprisingly she is constantly dissatisfied with his efforts: "Nothing Guillermo has ever written has left her satisfied after a first reading." In just twenty pages Pitol not only celebrates his own hermetic predilections but also illustrates his ambivalence toward his audience.
George Henson, literary translator and assistant professor of translation at Middlebury Institute of International Studies in Monterey, provides us with an elegant and entertaining introduction to an important Mexican writer.
- back to program -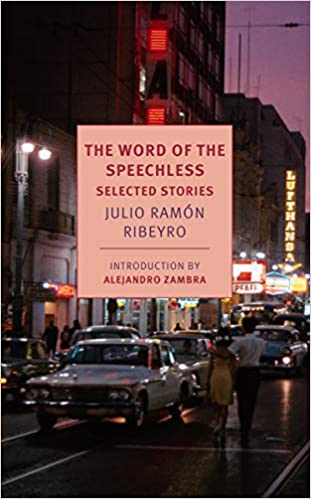 Winner
The Word of the Speechless: Selected Stories
Julio Ramón Ribeyro, edited and translated from the Spanish by Katherine Silver
New York Review Books Classics
Peruvian writer, Julio Ramón Ribeyro (1929-1994) was a master of the short story, fashioning setting, character and event into tales that unveil the depths of human longing and delusion.
In "Silvio in El Rosedal," for instance, the title character struggles to understand the nature of his inheritance, "the most coveted hacienda in the valley of Tarma." Unfortunately, the property, "which fell on Silvio like an elephant from a fifth-story window," frees him from the perennial human struggle to survive. Soon his life comes to seem meaningless and so he embarks on a chimeric quest to understand life, a quest focused on a secret message encoded in his rose garden. The fact that after years of frustration and confusion he somehow arrives at contentment illustrates Ribeyro's characteristic generosity, both to his readers as well as his characters.
"For Smokers Only," an homage to Italo Svevo's Confessions of Zeno, offers a different kind of emotional depth as the writer confronts the addict in himself. Smoking is his vice and his religion. Wherever he lives—France, Germany, Peru, Belgium, the U.S.—he's on intimate terms with all brands of cigarettes, at least the ones he can afford. One time in Paris, he has to sell the last ten copies of his own book in order to buy a pack of Gitanes. Shortly before his fortieth birthday comes his day of reckoning, the surgeon removing "part of my duodenum, almost all of my stomach, and a big chunk of my esophagus." Yet even after such trauma he refuses to give up tobacco. Quoting Flaubert, he declares himself "neither a moralist nor a demoralizer."
Katherine Silver offers us this multi-faceted writer in a deft and delightful translation.
- back to program -
Children's Literature: Younger Readers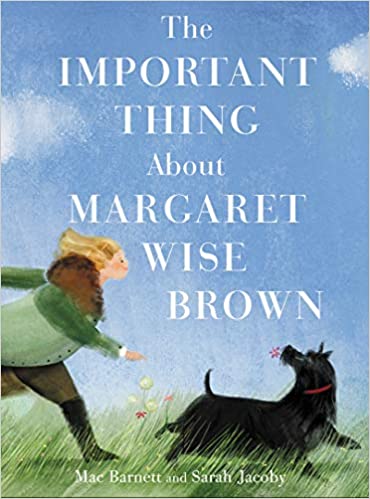 The Important Thing About Margaret Wise Brown
Mac Barnett, illustrated by Sarah Jacoby
Balzer + Bray
This beautifully illustrated picture book biography celebrates the unconventional life of one of the most beloved children's book authors and illustrators. Barnett isn't afraid to get meta in his storytelling as he emulates Margaret Wise Brown's book, The Important Book, to tell the story of her life. Wise Brown wrote over 100 books in her short life. She grew up around many pets and wove some of their stories into her books, including Goodnight Moon and The Runaway Bunny. A conservative yet influential children's book librarian in New York named Carroll Anne Moore found her books strange and discouraged other librarians from buying them. In response to being excluded from literary events, Margaret Wise Brown hosted her own tea party on the steps of the New York Public Library during their tea party. She left New York to find love and adventure but died in a hospital in France at age forty-two. She wrote strange books because life is strange and books are important, and she believed that children deserve important books.
- back to program -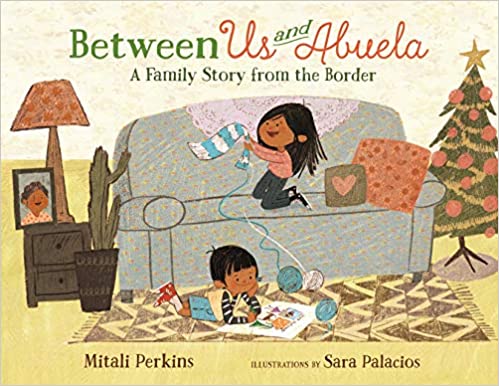 Between Us and Abuela: A Family Story from the Border
Mitali Perkins, illustrated by Sara Palacios
Farrar, Straus and Giroux Books for Young Readers
Las Posadas Sin Fronteras ("The Inn Without Borders"), part of the Las Posadas festival, is celebrated along the border between Mexico and the United States right before Christmas. Families reunite in Tijuana, Mexico and San Diego, California on opposing sides of the border fence. A mother takes her two young children, Maria and Juan, to the celebration at the border to see their grandmother who lives in Mexico. The children haven't seen their grandmother in five years and bring her homemade gifts, a hand-knit scarf and a picture. Their time together is joyous but too short, and the children forget to give their grandmother the gifts. Maria crafts a clever plan with her brother to deliver the picture to their grandmother before it's too late.
Mitali Perkins tells a beautiful, heartbreaking tale of families separated by the border between the U.S. and Mexico. The art illustrates poignant moments shared by a reunited family to create a feeling of hope. The family's story, told through the children's creative triumph, proves that love is stronger than any border.
- back to program -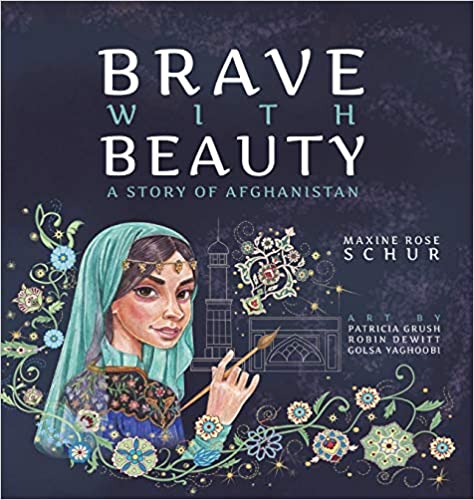 Winner
Brave with Beauty: A Story of Afghanistan
- back to program -
Children's Literature: Middle Grade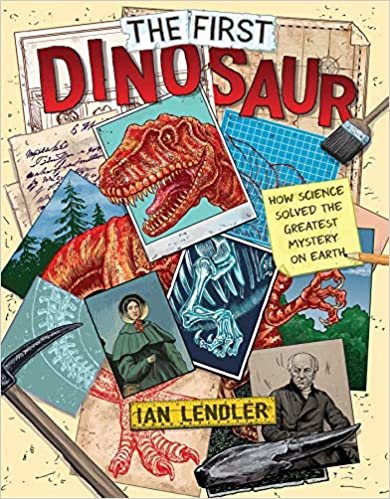 The First Dinosaur: How Science Solved the Greatest Mystery on Earth
Ian Lendler, illustrator C.M. Butzer
Margaret K. McElderry Books
In a fantastic mixture of reportage, detection, curiosity and humor, Lendler leads his readers through the history of the idea of a dinosaur, from the discovery of bones to the complicated recreation of skeletons and finally the conception of dinosaur life. His story is filled with heroes and villains: farmers and miners, amateur sleuths, academics greedy for recognition, and others eager to share their fame. Butzer's illustrations amplify every word of Lendler's text. Add archival photos and you have a book that excites visually as well as verbally.
- back to program -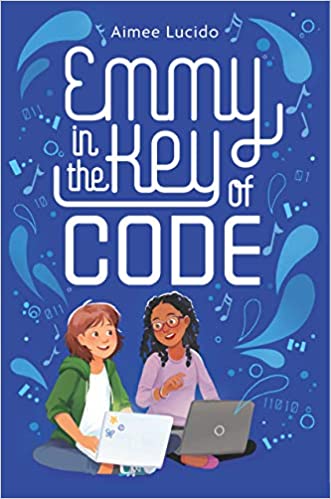 Winner
Emmy in the Key of Code
Aimee Lucido
Versify
Loneliness, self-discovery, a community of interest and a gifted teacher meet in these wide-open pages to drive a work that's as satisfying as it is unique. Lucido pioneers a new multimedia form, built of free verse, computer code, graphic invention and musical motifs to immerse us in the unfolding story and, simultaneously, in the intellectual and emotional development of twelve-year-old Emmy. She's new to San Francisco, making her way in a new school and doubting her own gifts in a musically gifted family. Breaking with narrative convention, Lucido creates a text that captures and validates how today's smart kids experience and navigate the world.
- back to program -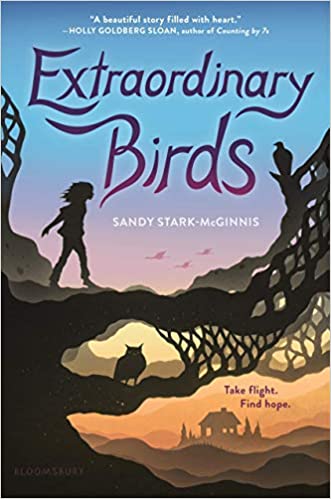 Extraordinary Birds
Sandy Stark-McGinnis
Bloomsbury Publishing
Eleven-year-old December has scars on her back she believes are wings that will soon let her fly away from the round of foster homes that define her life. She studies the habits of birds, eats only seeds, expands her diet to worms. Then she meets Eleanor, a private woman who devotes herself to the rehabilitation of wounded animals. December is wary at first, more eager to climb a nearby oak and settle herself in its branches than live in Eleanor's house. But with time, a new school friend, Cheryllynn, and the unbeknownst aid of a wounded hawk, December is able to come to terms with her grief and learn about the value of roots and home in this engaging and beautifully detailed story.
- back to program -
Children's Literature: Older Readers/Young Adults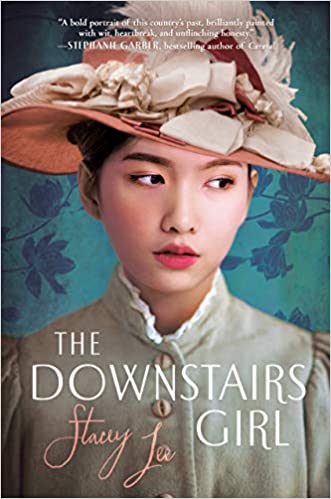 Winner
The Downstairs Girl
Stacey Lee
G.P. Putnam's Sons Books for Young Readers
Atlanta, Georgia, 1890s. Jo Kuan lives secretly with her Chinese immigrant maybe-grandfather in a basement originally excavated to house escaped slaves making their way north. They live below a print shop and work for a rich white family—she as a maid, Old Gin as stable-master—and much as possible steer clear of racist towns-folks and Jim Crow laws. Whip smart, bold and an engaging narrator, Jo evokes southern culture even as she recounts her own journey from maid to hat-maker to feminist advice columnist for the newspaper produced above her head. Impeccably researched, suspenseful and surprising, this complex story opens like a flower.
- back to program -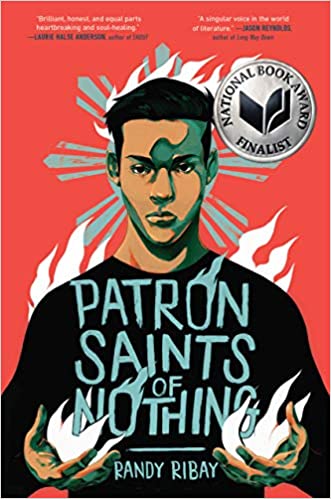 Patron Saints of Nothing
Randy Ribay
Kokila/Penguin Young Readers
Jay Reguero thinks he knows what's next: a boring senior year of high school and then the University of Michigan. His plans are shattered, and he is awakened, when he learns that his Filipino cousin Jun was killed, supposedly a victim of President Duterte's war on drugs. Jay refuses to believe in this version of events; his family refuses to talk about what really happened. So Jay flies to the Philippines to investigate for himself. What he finds forces him to reevaluate his attitudes to his country, his family, his cousin, and himself in a story as harrowing as it is uplifting.
- back to program -