Join Us!
Benefit Reception & Reading
for Poetry Flash
featuring Alicia Suskin Ostriker
---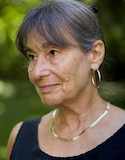 Poetry Flash reading and reception with poet and critic Alicia Suskin Ostriker, proceeds benefit Poetryflash.org and the Poetry Flash reading series, wine, cheese, and books, hosted at the home of Carl and Susan Landauer, 6028 Aspinwall Road, Oakland, admission with a suggested donation of $50 to Poetry Flash, tax deductible as allowed by law, $35 for each additional member of your party, please rsvp and bring a check to the reception, or donate at the link provided here, 3:00-6:00 (510/525-5476; rsvp: info@poetryflash.org; reception admission/donation: Donation Here
MORE ABOUT THE READER
Alicia Suskin Ostriker is a major American poet and critic. Her new book is The Old Woman, the Tulip, and the Dog. Tony Hoagland said of the collection, "The informal mastery of these poems is marvelous. Ostriker has devised a style that is offhand-seeming, a voice that is effortlessly concise, and a subject matter that has leapt far past the personal. Bawdy, ruthless, insightful, and compassionate, these poems feel like play, even as they take you through configuration after configuration of the mortal condition. Reading them, I feel like I'm encountering poetry translated from Eastern Europe, or written by some unknown brilliance in Argentina. Everyone should read them; they're beautiful, and universal."
Alicia Ostriker is the author of fifteen poetry collections, including The Book of Life: Selected Jewish Poems, 1979-2011 and The Book of Seventy. She has received the Paterson Poetry Prize, the Paterson Award for Sustained Literary Achievement, the William Carlos Williams Award, the San Francisco State Poetry Center Award, the National Jewish Book Award, and has twice been a finalist for the National Book Award. Ostricker is professor emerita of English at Rutgers University and teaches in the low-residency MFA program of Drew University.