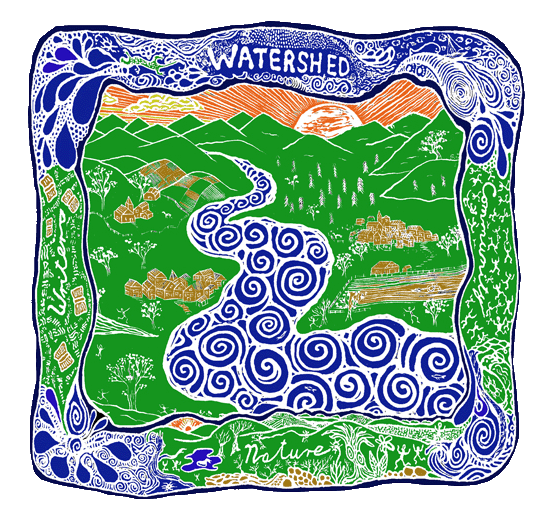 Watershed Environmental Poetry Festival
Celebrate Writers, Nature & Community
Watershed Environmental Poetry Festival is a collaboration of Robert Hass, Poetry Flash, Ecology Center/Berkeley Farmers' Market, and Ecocity Builders. The Watershed Festival emerged from Robert Hass's national Watershed initiative during his tenure as U.S. Poet Laureate, 1995-97, which explored connections between environmental awareness and the American literary imagination. The first two Watersheds were held at the Bandshell at Golden Gate Park, San Francisco.
---
Make a Donation to Watershed

The Watershed Environmental Poetry Festival is a project of Poetry Flash is a 501(c)3 nonprofit organization, federal tax ID #94-3096270. Donations are tax deductible to the fullest extent of the law.
---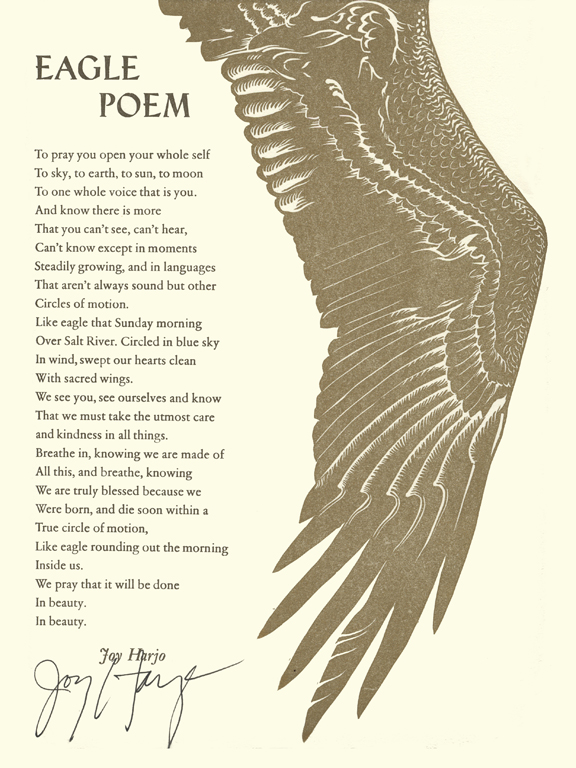 Dear Friend of Watershed,
Each year, to support and produce the Watershed Environmental Poetry Festival, we commission a hand-printed broadside of a poem by one of our featured readers. This year we've selected "Eagle Poem" by Joy Harjo, from her book How We Became Human. For a donation of $25 or more supporting Watershed, you will receive this beautiful broadside, with original artwork, as a thank you.
Please join us on September 29, noon to 4:30, for the 17th annual Watershed Environmental Poetry Festival at Berkeley's Civic Center Park, this year in conjunction with 100 Thousand Poets for Change, and, as always, with our crucial collaborators, the Ecology Center/Berkeley Farmers' Market. We'll be gathering with intention to generate, with poetry, music, and art, the spirit we need to fuel a movement and to celebrate being together. Please join us in standing up for the earth. We have an exciting program that will inspire you while exploring the urgent issues that confront "the state of our planet."
This year's festival is dedicated to the work and life of Ernest Callenbach, author of Ecotopia. Outstanding poets, writers, and musicians are featured this year. I'll be there, along with Joy Harjo, Michael McClure, Brenda Hillman, Francisco X. Alarcón, Rebecca Foust, and more. California Poets in the Schools, River of Words, and Poetry Inside Out K-12 student poets will present their poems, interspersed with world-class jazz from The Barry Finnerty Trio and insightful updates from Ecocity Builders and Ecology Center.
Civic Center Park will be transformed with beautiful Watershed banners created by the late Bolinas artist Arthur Okamura, a Creek Poem installation, and River Village exhibits plus 'zines, books, and literary magazines beside the lively Berkeley Farmers' Market. There will be parachute-shade structures, tents, and chairs and recycled carpet to sit on.
The annual Strawberry Creek Walk begins at 10 a.m., the morning of the festival, just inside the UC Berkeley campus at Oxford and Center Streets. You're invited to walk with poets Chris Olander, Maya Khosla, Susan Kelly-DeWitt, Kim Schuck, Rebecca Moos, Maureen Hurley, environmentalists Kirstin Miller/Ecocity Builders, Tim Pine/UC Berkeley, and others along Strawberry Creek from the UC Campus through downtown Berkeley, following the creek as it tunnels beneath the city to the festival. Along the way, there will be readings and commentary on restoring the creek.
And on Friday, Watershed poets will visit Berkeley High School for a poetry session with the students.
Your support is needed to help cover Watershed's expenses. It is essential that this festival remain free, public, and open to all. Please join us!
Thanks,
Robert Hass
U.S. Poet Laureate, 1995-1997