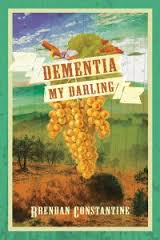 History of the Future
by Peggy Dobreer
Dementia, My Darling, by Brendan Constantine, Red Hen Press, Pasadena, 2016, 104 pages, $11.95 paperback.
IN THE INTEREST OF disclosure, Brendan Constantine is perhaps my favorite poet, beloved teacher, and one of my closest colleagues. How I love the verse and magic that is Brendan Constantine. But to rave where it is not earned is useless, and I'd owe it to him to say so if I thought it was crap. So please believe me aficionados and newbies, when I tell you that Dementia, My Darling is this poet's finest work yet.
With the humanistic undertones of Letters to Guns, the story arc of Calamity Joe, and the intimate reflections of Birthday Girl with Possum (Write Bloody Press), Dementia, My Darling, Constantine's third book with Red Hen Press, combines these and goes further and deeper than ever before.
Dementia My Darling is an ekphrastic adventure into the art of living and dying in a complex world. This volume spills forth from it's own center. Open to the middle and see what I mean, but be forewarned. Reading this book might leave you wandering around in your nightclothes, wondering which way is home, if indeed you have a home. Who doesn't grapple with their own legacy and mortality?
The pulse and rhythm of this crisp collection syncopate, read like jazz, exact and surprising at every turn. The meter is impeccable; his groove is a kind of magical surrealism. His bottom notes are profoundly humane. These poems on the page might be mistaken for choreographic notations in their motion and spatial acuity.
Chapter One, designated as "Phase I: BLURB," is just as it appears, a slow crescendo, setting the boundaries, and then jumping outside the boundaries, forcing the reader beyond the established conceit of the poem, causing the reader to feel slightly unended—displaced—in the best way. Even when a poem tells us something, it lets us know why we can't bank on it:
Did her father really buy two sheepwithout

slowing down?Did she get to name themsomething

& something else?

We don't record this stuff, there's no

archive; just a big map of the worldhung by a red pin

in the Arctic sea.We like to look at it,that bright point

of no place.We're pretty sure we've been there.

(from "Fugue State")
Or,
…If you don't know why

you're here, think no one sees you, that you can

hide by falling into line,

you have already been seen.

(from "Exam")
"Phase II: BOOK OF THE MO TH," reads like a call and response from being and non-being, dark and light, here and not there. Even the poems and the speaker are in peril of being dispossessed:
Most of the poems in this book are

missing. They've been replaced. Just

like there used to be an apartment

where your apartment is now.

(from "Uncorrected Proof")
And so are the rest of us....
…If you take


a Twinkie & bury it for sixty years, you'll have

no idea where you buried it. Everyone has


a question that can't wait. The opposite of love

isn't hate, it's a quick survey.

(from "A Foundry Gone")
The final chapter, "Phase III: BEST CELLAR," is a returning home to be grounded, to go below the ground, be buried alive. It happens in quick improvised solos, and one long detailed history of the future, from the vastness of the cosmos to the intimacy of the nightstand, windows wide ajar. Do you remember that feeling that something is going out from your body, or that the sky has entered your chest?
This final chapter runs away with unguarded momentum. We find ourselves caught in an avalanche of poems that includes such titles as: "The Dreams of Trains," "Fell Swoop," "En Route," "Departing Gates," and "A Point of Losing," and such lines as:
…They have big parts




to play in a play about trains


but can't remember their lines:

New York/Los Angeles? Calcutta/

(from "The Dreams of Trains")
Don't you ever want to crush a little




someone? Wonder if you hit me

hard enough, could we both leave

the ground?

(from "Fell Swoop")
…But "hinterland"




sounds like a theme-park for


people who can't come to the point.

(from "En Route")
The unspooling of lines in the final section seems to want to recalibrate our senses, splay them open, and start again from scratch. Dementia, My Darling reminds us that the universe is a place of boundless curiosity and ultimate decay. Something could be gone in one fell swoop. It's good to pay attention:
Set your watch to the hour of your birth & remove the battery

(from "Ten Alternatives to Diagnosis")
It's lines like this that expose once again, this poet's endless capacity for another angle, a Puck's purview. I am reminded of the dedication that opens Dementia, My Darling: "In memory of memory":
I'm leaving you my luck,

he says, these old flowers,

and as much as I remember

of a woman who let me hold

her hip. You'll have to share.

(from "A Point of Losing")

Peggy Dobreer is a Los Angeles poet with one Pushcart nomination and one book, In The Lake of Your Bones, Moon Tide Press. She teaches poetry for WITS (Writers in the Schools), Red Hen Press, and independently at E=Mc2 Bodied Poetry Workshops. She curates THE RwIrGiHtTe READ series at Stories Books and was one of ten poets included in the first Aeolian Harp Folio Series from Glass Lyre Press.
— posted July 2016