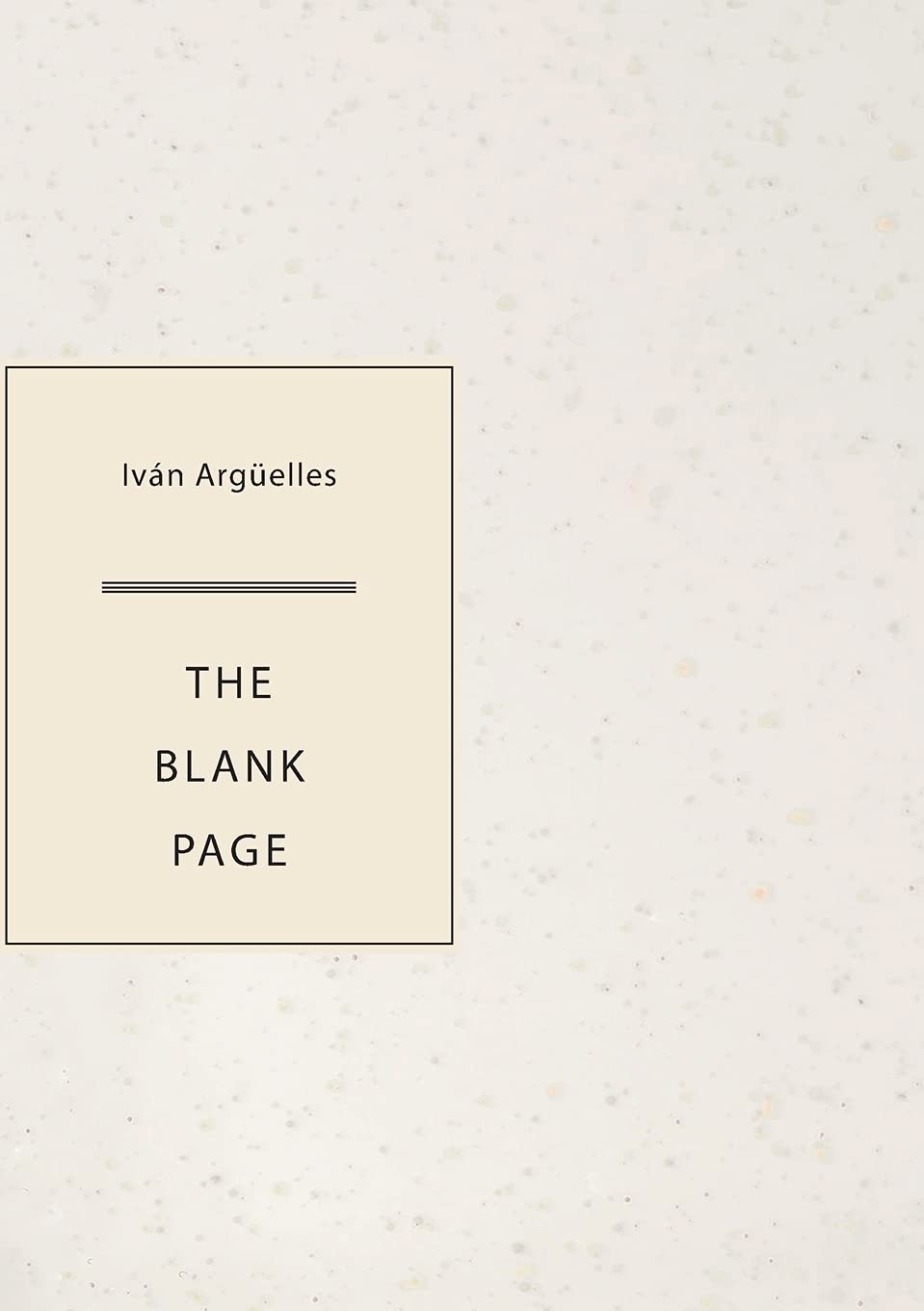 Filling the Blank Page
by Carl Landauer
The Blank Page, Iván Argüelles, Sagging Meniscus, Montclair, New Jersey, 2021, 250 pages, $20.95 paperback, www.saggingmeniscus.com.
WITH THE BLANK PAGE, Iván Argüelles brings us another volume of poems, written in daily increments, that marshal a vast expanse of literature and myth with wonderfully imaginative juxtapositions. The poems venture into the most significant questions of life and death, as well as the effort, often impeded, to convey meaning. His life, foundational for his poetry, began in Mexico City, one of two identical twins, sons of a visual artist who knew Diego Rivera and Frida Kahlo. Their father may have been the first person to see Trotsky's body after he was assassinated. Argüelles's family moved to Los Angeles, but he really grew up in Rochester, Minnesota, his mother's hometown, where his family moved due his mother's tuberculosis. Argüelles's poems return frequently to the Minnesota town of his youth. Integral to his poems, Argüelles's deep knowledge of literature and myth stems from his study of the classics at the University of Chicago, followed by a career as a librarian, first at the New York Public Library and then at the University of California, Berkeley.
Argüelles has developed the framework for his books as daily poems, with a date penned at the end of each, so we experience the rhythm and flow of his imagination. Essentially, we have a journal, which is why a volume he published the year before was titled Diario di un Ottogenario. There may be certain dates that trigger the poet, such as the poem "MEMORIAL DAY" dedicated to "my uncle Vernon MIA ca. 1945." (page 170) Although it is in "AFTER ALL THIS TIME" that we learn his uncle crashed his plane in the "jungles of WWII." (page 50) In this way, Argüelles may be absorbed by his brother José's death in one poem and that absorption may carry through successive poems, or we may see him circling back to themes, in which we essentially tap into the pattern of his experience. When Argüelles worked at the large New York Public Library building at Fifth Avenue and 42nd Street, he wrote poems during his lunch hour, aligning them with Frank O'Hara's practice of writing his Lunch Poems during lunchtime at the Museum of Modern Art. Even if Argüelles no longer has a lunch hour, we still have the record of a daily appointment with his craft.
It is hard not to think of this daily appointment when one comes across these words opening a poem, "the last time I wrote this poem." But the poem, "THE POEM I CEASED WRITING," focuses more on the failure to versify, or rather, to make meaning.
the words tumbling out like meteors

whatever they could pronounce or spell

meant nothing the last time I erased

this poem and stuck to the blanks and

dots of a distant hemisphere and voices

reciting what I never wrote and palms

read furtively in a black mirror signed

the air with fractured hieroglyphic

strokes…

(page 60)
Argüelles takes us to heaven and hell, the underworlds and great expanses of the Greeks, the Romans, Vedic and epic India, Mesoamerica, not to mention Dante, with all the gods and demigods hovering around his pages; he shuttles us between frames of Neoplatonic macrocosms and microcosms in his work. Yet, Argüelles's poems are particularly consumed by questions of communication, both the conveyance of meaning and the rupture of meaning, so that "THE POEM I CEASED WRITING" ends with the words, "lost in the mind's dark cuneiform."
As one traverses the length of The Blank Page, Argüelles's pages are densely populated with one after another reference to poetry, writing, communication, and perception. Argüelles uses terms of poetry and song, including "prosody," "rhymed patters," "meter," "hexameter," "thrednody," "strophe," "stanza," "scansion," and "lyric." More noticeable are his continuous refrains that simply refer to language, such as "words," "vocabulary," "text," "paragraph," "clauses," "accents," "punctuations," "syntax," "grammar," and parts of speech, like "pronouns," "adjectives," and "verbs." And Argüelles makes repeated use of "vowels" and "consonants." There are his various references to the cataloging of language, for example, his references to "lexicons." In addition to "homophone," "synonym," "etymology," and "semantic," Argüelles inhabits a world with a wide variety of languages, so his poems are full of references to "pictograms," "calligraphic," "glyphs," "hieroglyphs," "ciphers," as well as "provectives," and "diphthongs." Several times Argüelles references "semaphore." And, not to be entirely caught in the past, he brings us to the present with "thought-clouds." There are some favorites that Argüelles returns to repeatedly, in addition to "vowels" and "consonants," including "ampersands" and "asterisks." "Asterisks" are particularly appealing to Argüelles because the classicist in him can enjoy the Greek asteriskos or "little star" embodied in its very name, so that he can play with it, as he does when he writes: "it seems the vacuum has its lexicon / of asterisks and despair lighting brief / and fierce the western sheet of sky." (page 182)
Argüelles focuses our attention on an array of referents to language and communication, but his poems betray a fear of lost messages and broken articulations. For all his "translations," "transcriptions," and "transliterations," sound and meaning are lost en route. His poems, then, are marked by "scribble," "nonsense," "misrepresentation," "words unheard," "unheard notes," "tongue-tied vowels," "lost vowels," "half-shattered syllables," "phonetic decay," "misrepresentation," "misnomer," "cacophony of chants," "speech unraveled," and "babble." When he references the medical disorder of the meaningless repetition of another's words or "echolalia," it is to "silent echolalia" that he refers. And in his constant references to the loss of speech in "aphasia," a term that also drew Derrida's interest, Argüelles is likely drawn to its Greek origin as simply "without language." He can in several places talk of "speech acts," where the very intonation effects its result, "appeals to a higher sound to an echo rising above / its common vowel a speech act clad in marble." (page 154) But throughout, there is the threat, or rather the experience, of broken speech and meaning torn asunder.
Despite the slippages and failures to which Argüelles testifies, his poetry is masterful with its cascades of words, references, and allusions. He uses a range of time-honored poetic formulae like the syntactical inversions of anastrophe. He might create lines reminiscent of other poets, so that we might hear something like Seamus Heaney in: "watching it all fall rotted timbers roofs burning / come plunging into the silt and loam and ghosts." (page 133) He often sets his poetry at a high register, with its Homeric and Dantesque references, and then deflates to everyday speech—breaking, for example, to "who was the last to turn off the light?" And his poems are full of playful turns, such as "the building's only made of paper the moon / has nothing to do with it…," (page 181) where in starting a new unpunctuated sentence midline, one skips the definite article that starts the second sentence. If he writes: "lamps and dividends / shares in the breath…," (page 64) the thought of this play on shares and dividends is confirmed in a poem two days later, when he writes of "shares and dividends of desire." (page 66)
Argüelles's playfulness is related to his close reading of Surrealist poets, particularly his fondness for Philip Lamantia, Federico García Lorca, and César Vallejo. His is not the cadavre exquis non-sequitur poetry of some of the Surrealist tradition. But rather the soft, playful blending of realities. And here Vallejo provided a model for the "cyclopian astigmatism" and "amnesia mimosas" that mark Argüelles's lines. Overall, Argüelles shares the core Surrealist goal of eliminating the boundary between the conscious and unconscious, and evidences a desire to tap an oneiric realm. Argüelles has also been called "neo-Beat," and his "amphetamine crazed truck drivers" might fit comfortably in 1950s Ginsberg. And, among Argüelles's poems, there are those which are taken by an urgent, forward-moving pressure of many Beat poems. Those poems, however, provide interludes in the dream diary of The Blank Page.
In his dream diary, Argüelles returns to thoughts of his father, his son Max, who died at the age of forty-nine, and his twin brother, José, who was a New Age leader and writer, instigator of the Harmonic Convergence of 1987. Although the José appearing in Argüelles's poems is mostly from their hometown youth in the upper Midwest, or at his life's end. Remembering his father, Argüelles pictures himself as a child "nestled in his reek of disguised alcohol /shaving lotion old spice tropic fantasy." (page 53) But his father, a tortured soul, is the painter:
full hours of plight and anguish smoking

decks of pall mall cigarettes his hand

unwavering holding the subtle brush

to splash color over an unwrapped thought

a cathedral a half-dead donkey colonial

houses muffled in Aztec silver-work

filigree of bluish haze his archaic skies

riddled with recollections of a mountain

and the immense purple mysteries

of Tenochtitlan buried in Toltec grief

(page 54)
We have here a psychological study and cultural history intertwined, as it clearly is in Argüelles's mind.
Argüelles returns multiple times to address poems to his son, Max, and his grief as a father. In "WHEN LEAST EXPECTED MAX APPEARED ONE NOON," Argüelles is immersed in his son's final days when "every day in the hospital / was an eternity but the last day / was the briefest infinity on record / …which direction were you going / when the detonation of silence occurred?" (page 18] For the second anniversary of Max's death, Argüelles writes "NOT FADE AWAY" and confronts the end of his son's life. Two days later he is ushered back into his son's hospital room with its "dot-dot-dot of the green ventilator / for the tubing and cross-hatches and sirens / the doo-wop of medical analysis." (page 32] It is this nightmarish world that provides the setting for Argüelles's grappling with his son's mortality.
With his brother José—always "Joe"—Argüelles addresses the haunting loss of his döppelgänger as well as his inevitable co-participant in their jointly lived high school years. So Argüelles ends one poem: "…leaving me only half the other / I was born with and at 81 waiting for the / phone to ring and you know who with / the same voice as mine in eternity." (page 51) Argüelles is haunted by this why-not-me question, and by the disjuncture experienced with his brother's death: "and still listening for the echo of your words/ to come back across the Ocean-of-Being I wait / it is only inches between the living you and / the dead you in the fierce empty of space / only a step away from the other side of time." (page 20) And he asks: "why am I here and you / so far away ?" (page 227)
Joe is also the vehicle for Argüelles to reinhabit the past of their small hometown, as in the title of the poem written the day after the Fourth of July, "IMAGE OF JOE PLAYING THE TUBA IN THE HOLIDAY MARCHING BAND." His Rochester, Minnesota is full of "pom-poms and wrist-bouquets" along with Joe's holiday parade. There may be a hint of a snicker looking back, but this is no Spoon River or Winesburg, Ohio. Argüelles's poem, "THE PHOTOGRAPH SHOWING US BROODING AT THE HEIGHT OF ADOLESCENT MELANCHOLY," may refer to their "speaking Mexican in our thoughts," but their melancholy is normal adolescent melancholy, ending with "the two of us frozen in time in the summer / of painted rocks and gravel driveways / posed and poised with cigarettes." (page 232)
The weight of his brother and his son having predeceased him and the returns to his Minnesota past punctuate the journal of his daily efforts. It is, however, significant that for poems starting in February and ending in July of 2020, how little the political and the world consumed by pandemic enters his pages, even as what Freud called the day's residue. There are important exceptions. On May 31, six days after the murder of George Floyd, Argüelles doubles the average size of his poems to write a poem in which "George Floyd !" starts five of the lines. With the first instance, Argüelles writes:
George Floyd ! peaceful protesters gather

before the Palace anger not ritual makes

holy the tensions in the diseased atmosphere

burning cars as if Arjuna himself wild

with the death of his son were running amok

(page 179)
The poem folds in the leavening of the pandemic: "over one hundred five thousand dead now / hospitals vomit the corpses and / a Boddhisattva reborn as an ambulance driver / counts the number of patients remaining." (page 179) And "The President flying to his Private Golf / somewhere near crocodile infested Everglades / burning the opening lines of the Rg Veda," (page 180) lines that themselves speak to flame and sacrifice, in a poem adopting as an epigraph a line from the Aeneid during Aeneas's visit to the underworld, "quae lucis miseris tam dira cupido?" questioning his father why the poor souls so desire the light. For July 4's "THE FOURTH OF NEVER," Argüelles writes of a "west grown puny with fanaticism / and an appetite for pornography and fireworks / this is not the symbol of the republic / for which it stands but the bared knuckles / of the drunken pugilist who has mistaken / the fraying ropes for the heart's intimacy." (page 226) Several poems address the pandemic, including "VENUS IN THE PANDEMIC" with its "exclamation marks and proportion of smoke / spirit world nothing more than a graph / showing the spike in kovid-19 fatalities / it will never be tomorrow again !" (page 201) One can read Argüelles's transcription of despair as reflecting a time enveloped by the pandemic. So there are poems, such as "THE APOCALYPSE TODAY," which includes the lines "who recognizes one another who forgets / to salute the passing corpse the disarray / of hair the rumbling distance of crematoria / a flame for each name erased a number / that cannot be counted the world in its warp." (page 78)
But even there, the deathly reference starts with a forgotten martial salute. And another poem Argüelles writes the same day begins: "I'm old I know this time of life / is not the best and the world's beset / by its constant and growing woes / a semi-invalid half-knee half knuckle- / bone a spine once erect and hair / the spare rarity caught by a winter wind / what's to cheer the despairing mind." (page 79) Yes, the pandemic and the political free-fall certainly weigh on his mind, and here, there's the introduction of his own frailty. But overall, Argüelles, if not without tasting delight, expresses a warning that he deeply feels. That I, is part of the allure of the various underworlds he visits with Aeneas and Dante. He might begin two poems in July with epigraphs quoting Guido Cavalcanti, rather than Dante's discussion of Cavalcanti with Cavalcanti's father in the tenth canto of the Inferno, but that discussion hovers around us with the incantation of his name. Indeed, Argüelles himself follows the quotation, "I' prego voi che di dolor parlate," regarding those who speak of pain, with an opening two lines: "the poets the damned and otherwise / from the depths despised or contrary." (page 234)
Argüelles so often summons the warring factions of epic conflagration, as between Homer's Greeks and Trojans and the Mahabharata's Kauravas and Pandavas. He can be playful, as when he begins a poem, asking: "is it the same old story car-theft and kidnapping / of the bride pitting Argive against Trojan" (page 228) or when he refers to "the photo finish / of the Trojan horse." (page 63) But even what looks like a Trojan Horse throw-away line comes in a poem that speaks of "nose-bleed of politics / and the wars in the sands.…" (page 63) The epic battles are of immense significance to Argüelles. It may be that a whole host of literature and mythology makes up the furniture of his mind, whether the Provençal poets or the troubadours, Ronsard or Kabir, the Indian mystic poet. And he draws from all of them. But I find the passages through underworlds and the great epic battles to assume particular significance for Argüelles's poetry.
One of Argüelles's favorite words is "pointillistic," and he references the "dot-dot-dot" of Morse code many times. We might read in this affinity (for these dots) a metaphor for Argüelles's poetry. In fact, he refers to a "vast and senseless pointillism of doubt." (page 25) Pointillism and Morse code stand in for the effort to convey meaning through mere dots—whether paint or code—as well as the barriers to communication. In this book of poems, Argüelles tells us that "poetry is narcolepsy / the wish to return where there is no space." (page 56) Of course, to us, narcolepsy is unwanted sleep, a "lepsy" that seizes us, rather than driven by a wish. But it is an oneiric realm that Argüelles moves in and out of in the poetry of The Blank Page.

Carl Landauer taught history at Yale, Stanford, and McGill. In addition to publishing articles on the history of the humanities and the history of international legal theory, he has written on poetry for Beat Scene and Poetry Flash. He is a Poetry Flash contributing editor.
— posted MAY 2022