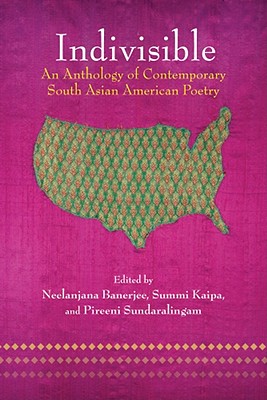 2011 Northern California Book Awards - Special Recognition Award
NCBR review of Indivisible: An Anthology of Contemporary South Asian American Poetry, edited by Neelanjana Banerjee, Summi Kaipa, and Pireeni Sundaralingam
University of Arkansas Press
Indivisible brings together a group of writers in the first anthology of its kind: forty-nine American poets with roots in Bangladesh, India, Nepal, Pakistan, and Sri Lanka. Among the award-winning poets included in the anthology are Meena Alexander, Agha Shahid Ali, Chitra Banerjee Divakaruni, and Vijay Seshadri. These poets share a life history of split ethnic consciousness, wrestling their poetry, forging it, across languages, cultures, and religions. Their forms range from traditional ghazals to slam and experimental poetry, their subjects from basketball to Bollywood, from the Grand Canyon to sugar plantations, from Hindu-Muslim riots in India to anti-immigrant attacks here, in post-9/11 America.
A collection which includes one hundred and forty-one poems in all, set alongside biographies of each poet, Indivisible was conceived and brought to fruition by three editor/poets whose South Asian roots have flowered here in the Bay Area: Neeljana Banerjee, editor and blogger for the Asian-American magazine Hyphen; poet and cognitive scientist Pireeni Sundaralingam; and poet-psychologist Summi Kaipa. The focus of Indivisible is now, our post-colonial twenty-first century on a shrinking, fusing, increasingly interdependent planet. This anthology showcases contemporary poetry of the highest quality, and celebrates not only the individual writers, but also the vitality of the South-Asian diaspora. Together, these poets have brought forth a changed, new poetic indivisibility.
About the NCBR: NCBR/Northern California Book Reviewers, a volunteer group of book reviewers, book review editors, and others who read passionately and write about reading, have met regularly since 1981 to celebrate books by presenting annual book awards to northern California authors. See the 2011 NCBA page under PF Programs for the complete list of finalists and winners.