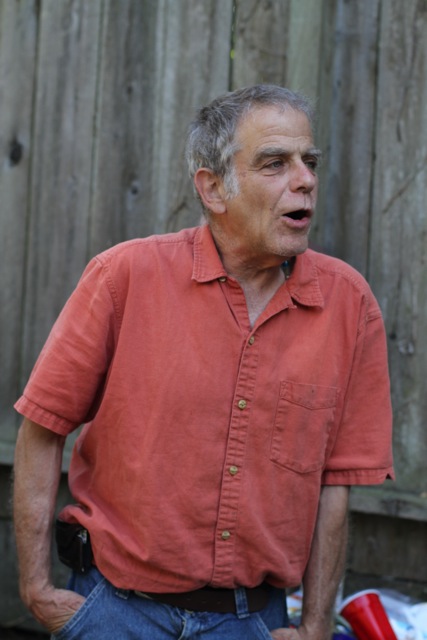 John Oliver Simon (1942-2018)
JOHN OLIVER SIMON died early on January 16, 2018 at the home of his fiancée Susie Kepner after several years struggling with cancer. He was 75, father of two daughters, Kia Simon and Lorelei Bosserman, grandfather of Tesla Rose Moyer, to whom he wrote many proud, adoring poems, and former husband to Pam Simon Hazel, Alta, and Jan Courtright Simon.
Poet and an important translator of Spanish poetry, John was a contributing editor to Poetry Flash (and contributor to American Poetry Review) who for decades wrote deeply informed essays on the politics and poetry of Mexico and South America, gleaned from his yearly travels south of the border. He was also an old dear personal friend of Joyce Jenkins, Poetry Flash editor, and Richard Silberg, associate editor. Richard Silberg and John Simon first met on Telegraph Avenue in 1966. John was a martial arts student, brown belt in karate, selling his poetry books out of a knapsack; they came to know each other more deeply through their years of association in Bay Area poetry. Perhaps their deepest bond came through the many three-way meetings they had with the late poet Jim Schevill and his wife Margot every few months at their house on Oxford Street, both before and after Jim's stroke, sharing poems and gossip.
Joyce worked with him on grants to support poetry in Berkeley elementary schools. He worked with her as a member of the Northern California Book Reviewers, providing pithy comment on the Poetry and Translation committees to select the Northern California Book Awards nominees and winners. His friends and colleagues sparred with him and respected him.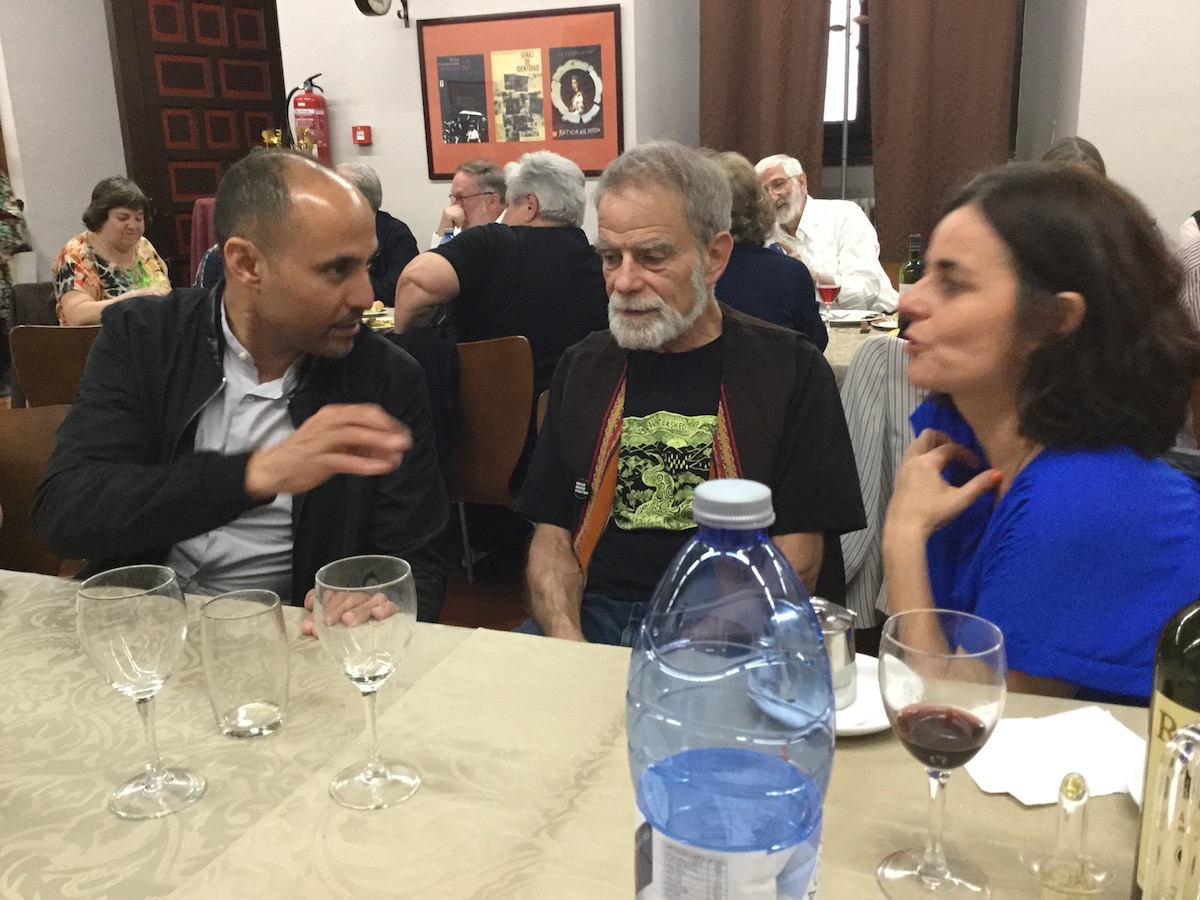 Recently, when he heard of Poetry Flash's forthcoming anthology of Berkeley poetry, he immediately came over waving the issue of Aldebaran Review, "City of Buds & Flowers," that he edited in the sixties, his definitive response to the question of poems on Berkeley. The journal included work by Alta, Bruce Boston, Andy Clausen, Luis Garcia, Allen Ginsberg, Susan Griffin, Jana Harris, Tobey Kaplan, Josephine Miles, Dale Pendell, Stan Rice, Gary Snyder, Alan Soldofsky, Jack Spicer, Al Young, and many more.
John's poetry, writing, translations, and clear opinions will surface in Poetry Flash again and again in the future. He wrote gorgeous poetry at the end of his life.
Born in New York City in 1942, John Simon went to The Putney School, graduated Phi Beta Kappa from Swarthmore, and went to UC Berkeley. Berkeley became his home. He tangled in the Free Speech Movement on campus in 1964 and the later imbroglio on Telegraph Ave over People's Park. And he was part of a 1960s poetry scene in Berkeley with Charlie Potts and other poets that he wrote a vivid essay about for Poetry Flash. He considered John C. Adler, Jeffrey Campbell, Daniel Hoffman, Gary Snyder, Lew Welch, and Carol Lee Sanchez his mentors.
John had a full and varied career. Among his full-length, published books of poems are Roads to Dawn Lake (Oyez Press, 1968), Neither of Us Can Break the Other's Hold (Shameless Hussy Press, 1974), Rattlesnake Grass (Hanging Loose Press, 1978), Lord of the House of Dawn (Bombshelter Press, 1991), Caminante (Creative Arts Book Company, 2002), about which Gary Snyder says, "This is a major poem, gritty and elegant, hard-earned, oriented by stars and late night conversations on the long road. John O., like an old time Chinese poet, weaves through history, politics, poverty, geography, poetry, spirit, friendship, love, learning, style, and deep mind; while traveling a continent." And finally there's Grandpa's Syllables (White Violet Press, 2015) about his beloved Tesla, that he wrote in a form, that one had the impression he invented but which at any rate seized him—eleven-line 'sonnets', eleven syllables to the line—and in which he wrote some powerful, fearsome poems about his own cancer that he read at a Poetry Flash benefit a few years ago. Amos White of Bay Area Generations says that John stole his eleven-syllable line from Octavio Paz.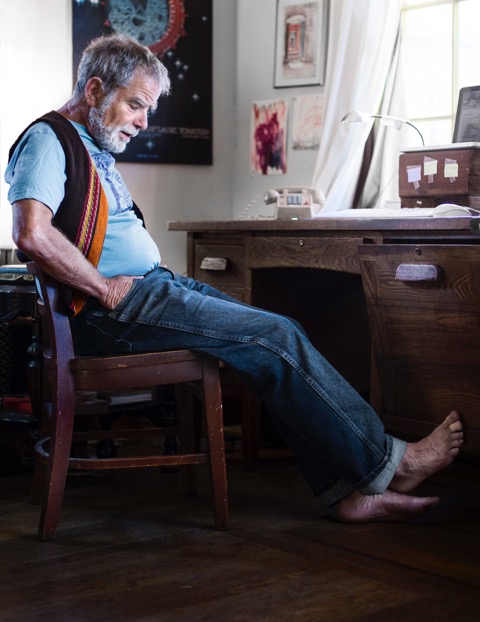 The peak of his extensive career as a translator came when he won an NEA Translation Award for his work on the great Chilean surrealist poet Gonzalo Rojas (1917-2011). His own selected poems Son Caminos was published in a Spanish translation in Mexico City in 1997. He also was awarded an Individual Artist's Fellowship by the California Arts Council in 1989. In May 2017, John traveled to the University of Salamanca in Spain to celebrate the centenary of Rojas at an Encuentro in Spain featuring six of Rojas's translators into as many languages: Ekaterina Jovanovich (Russian), Cristina Sparagana (Italian), Reiner Kornberger (German), Fabienne Bradu (French), Samir Moudi (Arabic) and John Oliver Simon (English). Rodrigo Tomás Rojas Mackenzie, the poet's oldest son and organizer of the festivity, also participated. John wrote of this trip of a lifetime: "We gave round tables and workshops punctuated with reading of Rojas poems in the Universidad Alcalá Henares and at the Residencia de Estudiantes, our lodging in Madrid, a unique dormitory and cultural institution where young students such as Lorca, Dalí and Buñuel once roomed. We formed a truly amazing collegiality, each of us immersed in the same poet across our palette of languages and communicating in our common, fluent if accented, second language, Spanish. Probably our best workshops happened off-line, conversing as we walked the ancient streets or argued the significance of a line over a beer in some taberna."
He was a devoted teacher of children. He taught at the People's Community School that he co-founded, 1969 to 1973. He was a board member and former president of California Poets in the Schools, working with CPITS, now called CalPoets, since 1971. At one point he was artistic director of Poetry Inside Out, a program of the Center for the Art of Translation. In 2013, he was named River of Words Teacher of the Year—by former US Poet Laureate Robert Hass—for the River of Words Youth Art and Poetry program. For years John has shepherded his young students and shown them off in the children's poetry segment of the Poetry Flash's annual Watershed Environmental Poetry Festival.
And Berkeley's poured some love back John's way. January 20, 2015, the city proclaimed "John Oliver Simon Day," and in 2016, the Berkeley Poetry Festival gave him its Lifetime Achievement Award. His work was featured in the Addison Street Poetry Walk in downtown Berkeley.
He was a loving, pugnacious, spiky, generous man, and he will be deeply missed. He already is.
JOHN OLIVER SIMON




All Over The Place




for Donald Schenker (1930-1993)




Don says there's poems all over the place,

it's practically embarrassing, and I nod

without enthusiasm, driving into downtown

Oakland thinking yeah, those two pigeons

squatting on the blue-gray sign HOTEL MORO,

how the part of it that's a poem could fall out

between the word and the bird, or the word Moro

all the way back to the reconquest of Spain

and all the bloody hemisphere ending up

on this block I don't care if I see again.




Don says he could just stop anyone

and look at them, they're all so deep

and beautiful, and I say what's interesting

is the stories they all carry around

stranger than fiction, stronger than truth

all these gente waiting to cross the street

each one forgetting their great-grandparents

each one forgetting to tell their children

and I'm no novelist, I can't move a

character across the room, much less two guys

to lunch at a Vietnamese place on Webster.




Over bowls of translucent noodles and odd meat

Don says he always felt like the other poets

were the big boys, and I see how the grand

famous names of his peers, now pushing sixty

have turned into the padded artifacts

of their own careers, while Don's obscurity

has kept him fresh and sweet, and Don says

he loves his tumors, the big one that hurts

in his left hip, the one that's hammering out

among sparse hairs inside his baseball cap,

and though it's his own death that gives him truth

I'm stuck in my heart without any words

while poems in Vietnamese are fluttering up

from all the restaurant tables around us

and escaping into so much empty light.

—POSTED FEBRUARY 2018