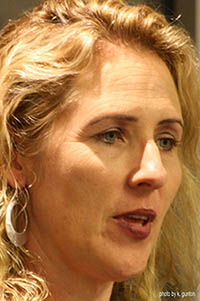 Getting Out of the Way
A Conversation with Kate Gale
by Robert Sward
At a time when bookstores and small presses are closing, Red Hen Press managing editor Kate Gale and her husband, publisher Mark E. Cull, have forged a literary alliance with the City of Pasadena whose mayor, Bill Bogaard, welcomed Red Hen to the city in 2009.
Red Hen Press was founded in 1994 and has published more than 170 books. For the record, The Huffington Post lists Red Hen among the top fifteen independent presses in the U.S. (See "Independence Day, 2010: 15 Feisty Small Presses and the Books You're Going to Want from Them.") As well as publishing twenty books a year (full disclosure, including my own New and Selected), this successful press has several outreach programs. Red Hen sponsors twenty-eight readings a year, produces a biannual literary magazine, runs a "Writers in the Schools" program, and gives out $5,000 annually in literary awards. Gale is also on the boards of the Poetry Society of America and A Room of Her Own, a foundation for women artists and writers, and is the executive director of the American Composers Forum's Los Angeles chapter.
Gale doesn't stop there. She also writes. Her libretto Río de Sangre had a world premiere in 2010 at the Florentine Opera in Milwaukee. She has also recently completed a memoir, "Flight of the Ugly Duckling," and another nonfiction work, "Tameka vs. Susie Q." A book of poetry, Echo Light, will be published by Blaze VOX this year, and her play, "The Moon Landing is a Hoax," is nearly completed. More information about her various published writings can be found at: www.kategale.com.
Red Hen Press has become a national press and Kate Gale a national arts leader. It is on the cusp of this transformation from a regional arts organization to a national press that this interview appears.
Robert Sward: What's it like for you being a publisher and a writer?
Kate Gale: Being a writer is the stunning part of my life. I grew up in a cult and lived there until I was eighteen, and out of that came this person stunned with being able to live and grow things and create and be alive in the world and listen to music.
I'm also terribly aware of all the fissures in the writing world—East to West, working class to academic—and I'm aware of the margins as a publisher. I started this publishing company to publish the people on the margins, yet pretty quickly the pressure is on to publish celebrated writers, not writers whose work is being ignored, and I feel that acutely, that sense of being outside.
I get to meet amazing people as a publisher and a writer, and they make me want to write at the deepest level, never write off the surface, always write from that deep place where you can feel the vultures circling—go there.
RS: And the cult? How might it have helped form you?
KG: I've written about it quite a bit in poetry and even in my blog. I wrote an autobiographical novel when I was twenty-four, which is nearly out of print, but one can still get it on the Internet. Since then I've written a memoir called "Flight of the Ugly Duckling," which an agent is looking at and hopefully falling in love with.
The cult was in southern New Hampshire, and it was forced to move to Canada because of extensive child abuse, what I call "water boarding for children." I came to understand from that experience that organized religion is a brutal thing, and I have stayed away from all that since then.
However, I turned out to be a rather disciplined person who works very hard, and I now have chickens, a vegetable garden, and a collection of people around me working for a common cause. So I came away from the whole thing with some good habits, whether I like to admit it or not.
RS: In your memoir, "Flight of the Ugly Duckling," you describe how as a teenager you leave the cult ("escape" might be a better word) with "no social security number, no driver's license, no job, no car, no home," and you shelter that first night under a tree. Then you describe how you pull out a small spiral notebook and simply "try writing."
KG: When you are writing, the problem is that you need to let yourself write without having that little editor on your shoulder, but you do need to let that editor come into the room later. If you edit while writing, often you won't write anything real or true.
I believe in journal writing as a way to get going. Getting out of the way involves writing a first draft without stopping and then editing as you go along. Just write.
But then, if the writing is to be any good, you will have to go back and edit again, and that means you have to make peace with the editor.
So who is the editor for me? Not a mother, not a father, not a parent at all. An equal, a friend who sees something I'm not seeing. That's why good editing that you do yourself is often just looking at the text with fresh eyes, asking yourself what's missing, where you walked away from the good, scary stuff. Go back, dive in; get wet.
RS: And what of the darkness? How, for example, do you handle recollections such as your mother telling you that she wished she could have had an abortion but they were illegal, as you describe in your memoir.
KG: You have to ignore all those voices and write anyway. The place of madness is where all good writing starts, and then the wrestling you do with the editor is, in a sense, a way of wrestling with God. And hopefully you win.
RS: Speaking of "the good, scary stuff," sounds as if the "grandmother/mother" energy, while anything but nurturing, is still a primary source, a fertile ground, for inspiration.
KG: Perversely, that place of madness, where you seem to need to go to face the demons, is "grandmother/mother," feminine, which can only make it worse, in the sense of painful. And, on the one hand, as a writer, you gotta go there. And, on the other, it's gotta hurt. So it's crazy making.
RS: How does your experience with journal writing and making what sense you can of that "place of madness" carry over to your teaching?
KG: Teaching is about the process of getting out of the way. It's all about getting out of the way for me. I think that if we as writers can teach ourselves to get out of the way, we can write.
If you are a writer, even a young writer, the process of writing is a quiet pull, a voice, talking to you, stringing you along. Many times we let ourselves get sucked in by all the other stuff we need to do, or the nasty editor in our head who says we're no good, and that gets in the way of writing. We do need to learn to shape and craft and edit, and that's very important too. But what a good writing teacher does is get out of the way of good writing and teach his or her students to do the same. Language wants to emerge if only we can make room for it, a place, a home.
I believe that being in my classroom should be one of the best experiences you had that day, that you should feel that it was an extraordinary experience, an exchange with a creative, intellectual world. But it's an exchange. I'm not smarter or better than my students. I have more book stuff in my head, but they have more street stuff and more music stuff. We exchange ideas; I go away pondering their world, and I hope they go away pondering my ideas and writing about their own ideas, which they're figuring out how to find. I try to show them how we find out what we think.
RS: If, as I think we agree, "writing is rewriting," how do you know when a poem is done?
KG: When it creates a little "tick, tick." Like that moment in Cat on a Hot Tin Roof when Brick says he drinks until there is a click in his head, and then he feels peaceful. That's it; the poem has a click, a throb, and it comes alive. It's done.
RS: What do you do when you reread a poem of yours that initially had that "click, throb, come alive" quality and yet on subsequent readings it goes missing?
KG: Sometimes I wrote a poem and in that place and time it felt very alive, because then I was in absolute pain, but now I am okay, so it doesn't have the same click and throb. I let that be. I think some poetry exists forever, some for a moment. Some poetry absolutely exists for all time, some not. I am okay with that.
A poem is breath. And breath sometimes leaves, sometimes comes.
RS: When you revise, what are the issues you're working with?
KG: When I revise work, I want brevity. I want the whole poem to be as tight as a violin string, otherwise it will not matter.
RS: What is the relationship between editor and writer? And what are some of the editorial steps from first draft to the polished version one gives to an editor?
KG: I get some manuscripts that are really edited, but that is not the norm. Mostly, we get manuscripts that have something rough about them, something unfinished, and I feel that what makes a book really sing is that final touch.
The steps of editing are: You by yourself polishing; you in community with a writing group, partner, or mentor; you with a writing professional; then you hand it to the editor; the editor does their content editing, the copy editing, and the final galley editing.
Ideally, the writer and publisher work together to make the book do well. They sit down and make a decision as to who will do what, and they both do their part, but they don't bug each other too much.
RS: How did you come by the name Red Hen Press?
KG: Red Hen comes from the story of the little red hen who had to do it all herself. Everyone else wanted to eat the bread, but they didn't want to help raise the wheat. The hen had to do everything.
RS: How does the "little red hen" manage to shift gears and move from "raising wheat," nurturing others and tending to the business at hand, to listening to her own personal muse and writing poetry. I'm thinking of your collections Mating Season, Selling the Hammock, and others?
KG: It isn't easy. But I think the only way is that when you sit down to write, you must sit down in a space that is not the editing space. We have one space for editing and publishing, and another for writing. Otherwise the publishing work would always intrude.
RS: Who are you currently reading? Who are your influences and who among the current crop of writers do you most admire and why?
KG: I am reading William Archila, Anne Carson, and, always, C.D Wright.
Dana Goodyear is a New York poet, very much the opposite of what I write and publish, but I like to read that and think outside the box. I like understanding the whole scope of American poetry, and that New York school of poetry, when it's written really well, is a joy to read. Dana is rushing with the gold of language.
I don't restrict my reading to the kind of poetry we publish. But my influences are: Margaret Atwood, Anne Carson, C.D. Wright, Duras, Ben Saltman. I also love Ron Carlson and Ray Carver and B. H. Fairchild.
RS: How are the Internet and new technology—like Amazon.com and other online booksellers, plus the Kindle and similar devices—affecting or likely to affect Red Hen's bottom line?
KG: Since most of our best-selling books are poetry, it doesn't affect us much. We do make our books available for the Kindle market, especially the fiction and nonfiction books. But our books are the kind you want to read twice; keep hanging with, looking up again, opening, checking to see what you missed; hence, keep on your shelves. So they just aren't the Kindle market.
Facebook, Twitter, blogging—all of these are the brave new world of marketing that we swim in that many of our authors are using to great effect.
RS: We're talking new location, new technology, new demands, new expectations. So what does the future look like? What's ahead for Red Hen and its authors?
KG: At the moment, Red Hen is trying to work out just how much it can reasonably do, and how much we need authors to do, in sales, marketing, and publicity.
Red Hen is also looking to expand its Web presence. We're taking a more active approach to social media, beginning with Facebook and Twitter. Eventually, I'd like for Red Hen to be an active participant in the thriving online literary conversation, writing and commenting all over the Web, and to turn the Red Hen blog into a destination for literary discussion.
We're also pursuing academic course adoptions. Red Hen's author stable is extremely diverse; many of our titles could be natural fits in various Identity Studies programs.
There are other irons in the fire.

Robert Sward is a Guggenheim winner, Fulbright scholar, and author of over twenty books, including Four Incarnations (Coffee House Press), Collected Poems, 1957-2004 (Black Moss Press, Canada), God is in the Cracks (Black Moss Press), and New and Selected Poems, 1957-2011 (Red Hen Press). In Canada, he worked for CBC Radio and contributed book reviews and features to the Globe & Mail and the Toronto Star; he also interviewed Margaret Atwood, Leonard Cohen, Earle Birney, Saul Bellow, and many others for the radio show Anthology. For more, see www.robertsward.com.
Photo: K. Gunton